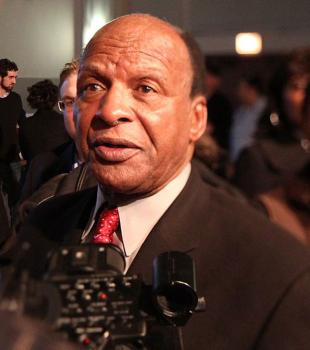 Jesse White is Illinois' 37th Secretary of State. He was first elected to the office in 1998 and won landslide victories in 2002, in which he captured all 102 counties, and again in 2006. On November 2, 2010, White was re-elected to a fourth term in another landslide victory, garnering more than 2.5 million votes statewide — more than any statewide constitutional candidate in over 30 years.
The Illinois Secretary of State's office is the largest and most diverse office of its kind in the nation, providing more direct services to the people of Illinois than any other public agency. In addition to licensing drivers and maintaining driver records, White's office issues state ID cards, vehicle license plates and titles; registers corporations; enforces the Illinois Securities Act; administers the Organ/Tissue Donor Program and maintains Illinois' Organ/Tissue Donor Registry. As State Librarian, Secretary White oversees the Illinois State Library and literacy programs, and as State Archivist, he maintains records of legal or historic value.
Prior to his election as Secretary of State, White served as Cook County Recorder of Deeds, an office to which he was first elected in 1992 and re-elected in 1996. Before that position, he served 16 years in the Illinois General Assembly, representing the most culturally, economically and racially diverse district in Illinois.
In 1959, White founded the internationally known Jesse White Tumbling Team to serve as a positive alternative for at-risk youth residing in and around the Chicago area. Since its inception, more than 13,500 young men and women have performed with the team. White has spent over 53 years working as a volunteer to help guide team members on the path to success and keep them from gangs, drugs, alcohol and smoking. The program has received international praise. This year the team will give more than 1,500 performances using seven units around the world.
White served our country as a paratrooper in the U.S. Army's 101st Airborne Division and as a member of the Illinois National Guard and the Army Reserve. He played professional baseball with the Chicago Cubs organization, followed by a 33-year career with the Chicago public school system as a teacher and administrator.
Jesse White earned his Bachelor of Science degree from Alabama State College (now Alabama State University) in 1957, where he was a two-sport athlete earning all-conference honors in baseball and basketball. In May 1995, White was inducted into the Southwestern Athletic Conference Hall of Fame. He was an all-city baseball and basketball player at Chicago's Waller High School (now Lincoln Park High School) and was inducted into the Chicago Public League Basketball Coaches Association Hall of Fame in June 1995. In 1999, he was inducted into the Alabama State University Sports Hall of Fame. Born in Alton, Illinois, White now lives on Chicago's near north side.
Source: Jesse White's website