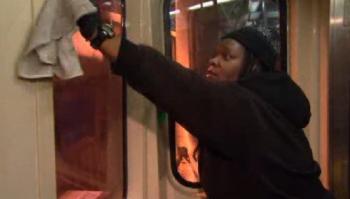 It seems like a simple enough concept: give ex-offenders a second chance at life by offering them steady employment at minimum wage and the opportunity to build a resume. The CTA has run such a program for the last six years, hiring ex-offenders to clean trains. But the program is about to end, sending 65 of these so-called apprentices back to the unemployment line.
Venus Caston gets paid $9.50 an hour to scrub trains from top to bottom, and she says the job has offered her a lifeline.
"After you've been working, you get up every morning and you're motivated because you got somewhere to go, you got somewhere to be," she said. "You got to be there on time, you got to be clean, you got to be there on top of your game."
Caston is an ex-offender who served two years of probation for felony theft. She says she worried she'd never again find work with her criminal record, but with the help of a social service agency she got an apprenticeship with the CTA's ex-offender rail car service program.
"What we're trying to do is give people a work history. When a lot of these folks, after they've gone through the system, they get out of prison or what have you, they don't have anything to put on their resume. And when they go to employers, they either have resumes that are barren, or worse, the employer simply won't give them a chance," said CTA spokesman Steve Mayberry.
The CTA says that many apprentices have successfully completed the program and have found full-time work, either at the CTA or elsewhere. But the program is about to end, and the CTA blames one man for it: rail union president Bob Kelly.
"I told them there had to be some changes, gave them what we wanted. They said no," said Kelly. "I believe every person deserves a second chance, sometimes even a third chance. We all make mistakes. There isn't one of us in this world that's perfect. We need second chances. But I am a union president who represents 3,000 people, not 65."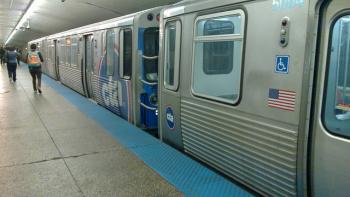 The CTA has had an agreement with the union to run the ex-offender program until the end of this year, and CTA officials say they have asked Kelly to extend it.
"There's nothing to negotiate," said Mayberry. "If he shows up at CTA headquarters, he himself can extend this program with the stroke of a pen."
But Kelly says the fault lies with CTA brass, specifically president Forrest Claypool. The apprentices are dues-paying union members, but make only a third of what their full-time counterparts make. Kelly says he'd extend the program if Claypool agreed to pay them more.
"What do I say to people when I say you're going to do the exact same work next to a guy making $25 an hour and benefits, and I'm not going to pay you benefits," said Kelly. "They're using these people to save money. Give them the right wages, health, pension, benefits. Let's give these people a real second chance. Let's do it. I will sign that deal tomorrow, turn these people over, and give them a real shot at life."
Kelly also says the program takes shifts away from more senior rail cleaning employees, and he wants that changed. But the CTA says it won't negotiate and doesn't have extra money to pay apprentices.
"There really is no middle unfortunately," said Mayberry. "The program exists, these people need it desperately. We want it to continue, he does not."
Caston says she doesn't know who to blame, but worries that instead of landing a full-time job, her months of hard work will lead her back into the unemployment line.
"You're working so hard toward something, and you're almost there, you could just taste it," said Caston. "And for it to be snatched up from under you, that's going to be devastating. I'm going to be hurt, that's going to crush me. I'm going to be like, what am I to do now? I'm going to have to start all over."
A growing list of community leaders like Father Michael Pfleger and the City Council's Black Caucus have lashed out at Kelly for turning a simple jobs program into a third rail that neither side wants to touch.
Kelly has warned that ending the program will lead to dirtier trains, but the CTA says it will have to redeploy current employees to keep up the cleaning schedule. The CTA has a similar agreement with the bus union to employ 200 ex-offender apprentices to clean buses. That agreement runs through 2015.