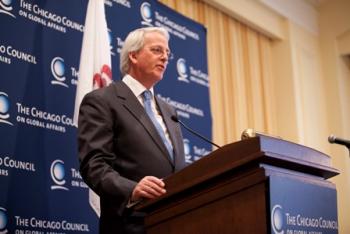 "Isolationism just isn't an option." This is the cornerstone of 
Ivo Daalder
's mission as he took over one of Chicago's oldest international affairs organizations this year.
The Chicago Council on Global Affairs
 has been engaging in international issues for more than 90 years. Council topics of interest include global agriculture and food security, business and economic affairs, international politics, and energy and climate policy.
However, Daalder is not only determined to make headway on these issues, but also to aid the U.S. and Chicago in grappling with the "paradox of American power" – which Daalder described in 
his inaugural speech
 this fall as America's declining influence globally, despite the power of the nation as a whole.
"We can't leave foreign policy just to Washington," Daalder said. "We here in Chicago, including here at The Chicago Council on Global Affairs, are an integral part of our nation's foreign policy and global engagement."    
We talk with Daalder about the Council's mission, the future of U.S. diplomacy, and how to bring Chicago to the forefront in the ever-changing global community.