Orpheus and Euridice at the Eckhart Park Pool, a winter farmers' market, and an art exposition at Navy Pier; Chicago Tonight knows what's going on this weekend.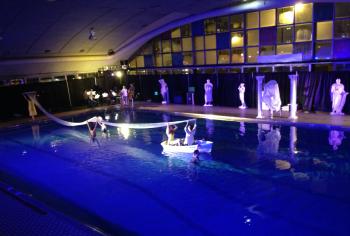 Orpheus and Euridice
This week, the Chicago Tonight Artbeat blog featured a theatrical performance of an ancient Greek myth. Orpheus and Euridice, which is staged by the Chicago Opera Theater, tells the story of a man who longs to bring his beloved back from the afterlife. Composed by Ricky Ian Gordon, the theatrical performance takes place in the Eckhart Park Pool in Wicker Park. During the performance, "140,000 gallons of water are transformed into the River Styx for this imaginative retelling of the ancient myth about eternal love." The show is free to the public, and walk-up tickets are available at 6:00 pm before each performance on a first come, first serve basis. For more information, click here.
Eckhart Park Pool
1330 W Chicago Ave
Chicago, IL 60642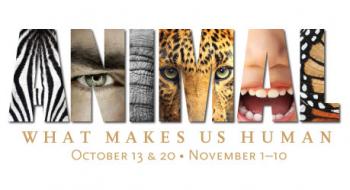 Chicago Humanities Festival
The mission of the 24th annual Chicago Humanities Festival is "to create opportunities for people of all ages to support, enjoy and explore humanities." This year,  the theme of the event is What Makes Us Human. Program themes during the festival include The Natural, The Cultural, The Fictional, The Factual, The Personal, and The Political. Tickets for most fall Festival programs are $8 in advance, and $13 at the door. The festival begins on Friday, November 1 and runs through Sunday, November 10.
This weekend's events include:
Barkin' at the Shedd – Saturday, November 2, 10:00 am - 11:00 am
Ken Ramirez, head of the Shedd's animal care and training programs, "discusses how training improves animals' quality of life in zoos and aquariums, helps protect them in the wild, and expands our understanding of their—and, consequently, our own—capacity to learn"
Francis W. Parker School - Diane and David B Heller Auditorium
2233 N Clark Street
Chicago, IL 60614
Pigs for Historians: A New View of Early America – Saturday, November 2, 10:30 am – 11:30 am
Peter Mancall, University of Southern California professor of history and anthropology, "explains the specific importance of horses, turtles, and glowworms to particular time and place, and what it means that the ancestors of today's Americans and the forebears of modern swine once flourished together."
The Newberry Library - Ruggles Hall
60 West Walton Street
Chicago, IL 60610
For a full list of events, click here.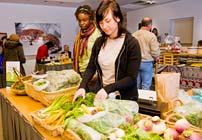 Winter Farmers' Market
Those who are looking for a relaxing Sunday activity should head to the Chicago Botanic Garden for the winter farmers' market. The event, which will be held indoors, takes place in the Boyer room and will offer a variety of seasonal produce, herbs, wreaths, handmade pottery, honey, and more. Participating vendors include Made from Mud (handmade pottery), Wild Flour Bakery, Spark of the Heart (soups), Holcomb Hollow (Jams, jellies and breads), and more. The farmers' market takes place on Sunday, November 3 from 10:00 am to 2:00 pm. For more information, click here.
Chicago Botanic Garden
1000 Lake Cook Road 
Glencoe, IL 60022
(847) 835-5440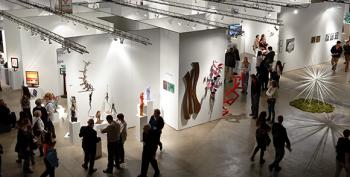 SOFA Chicago
This weekend, art fans should check out SOFA Chicago (Sculpture Objects Functional Art + Design Fair) at Navy Pier. SOFA Chicago, an annual art exposition, is "dedicated to bridging the worlds of design, decorative and fine art." The event includes lectures, exhibits, and special events, such as book signings and a live hot glass blowing demonstration presented by The Corning Museum of Glass Hot Glass Roadshow. The exposition will present nearly 70 galleries from across the U.S. and around the world. This weekend, the exposition is open on Friday, November 1 from 11:00 a.m. to 7:00 pm, Saturday, November 2 from 11:00 am to 7:00 pm, and Sunday, November 3 from 12:00 pm to 6:00 pm. General admission costs $15 and a three-day pass costs $25. For more information, click here.
Navy Pier, Festival Hall
600 E. Grand Ave
Chicago, IL 60611
An Evening with Liz Callaway
This week on Chicago Tonight, Tony nominee and Emmy Award-winning actress artist Liz Callaway and her son, Nicholas Callaway Foster, joined us to sing and tell stories. Those who enjoyed their performance of Paul Simon's Bridge Over Troubled Water on our show can watch them perform live this weekend at the Metropolis Performing Arts Center in Arlington Heights. During the concert, Liz will sing songs from Broadway shows including Merrily We Roll Along and Miss Saigon, and movies such as Disney's Anastasia. The concert takes place on Friday, November 1 at 8:00 pm, and tickets cost $40. For more information, click here.
Metropolis Performing Arts Center
111 W Campbell Street
Arlington Heights, IL 60005
(847) 577-5982