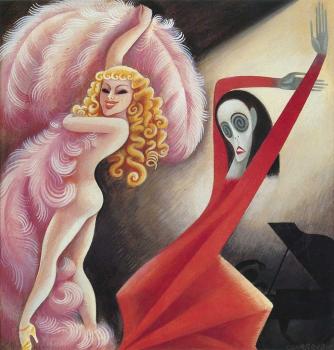 This year marks the 70th anniversary of burlesque dancer Sally Rand's appearance at the "Century of Progress" World's Fair in Chicago, so it's as good a time as any to post this marvelous image I stumbled across online.
Created by the Mexican artist and caricaturist Miguel Covarrubias, the painting appeared in the December 1934 issue of Vanity Fair magazine and hasn't aged a day.
It depicts a fairly pivotal moment in 20th century dance -- no really. Here's a pioneering burlesque dancer paired with the modern dancer pioneer, Martha Graham. Both of them were tremendously influential on their crafts. Not to equate the two -- one was a serious artist and the other a serial entertainer. I'll leave it to you to figure out which was which.
Can you match the quote with the dancer?
- "Great dancers are not great because of their technique. They are great because of their passion. "
- "I haven't been out of work since the day I took my pants off."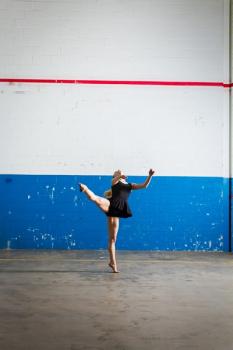 Okay, I guess that's obvious, but Martha Graham's quote (the first one) could easily have been said by semi-nude fan-dancer Sally Rand. And if you compare the attendance numbers at modern dance concerts in Chicago these days versus the nightly herd at "gentleman's clubs," you could fuel a depressing argument over which of the two dancers has had a greater influence on the popular imagination.
If you want to buck that trend this weekend, I'd recommend a pair of strong Chicago dance troupes who are teaming up to climb the modern dance family tree. Winifred Haun & Dancers are joined by the Leopold Group for a show called "Vision, Faith and Desire" at the Ruth Page Center for the Arts. The program includes works inspired by Martha Graham and a re-imagining of Graham's 1930 masterwork, "Lamentation." I haven't yet seen the relatively new Leopold Group, but if they're paired with Winifred Haun & Dancers, you're in for a powerful and creative show of bodies in motion.