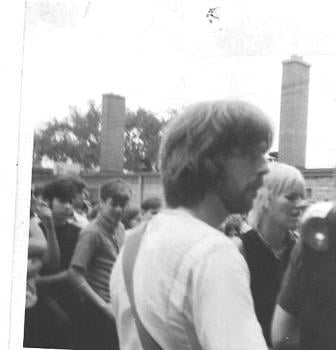 Sincere thanks to all the readers helping us complete the "almost surreal" true story of Eric Clapton playing in a Skokie parking lot in 1969. The age-old question -- "who knew?" -- was answered by a resounding "lots of us!" We're happy to spread the word on this one-of-a-kind performance and hope to get it recognized by Clapton's people, his fan clubs, and maybe the man himself.
First and foremost, we're thrilled that some of you took the time to dig up and post photos. We've tweaked them a bit, adding some contrast and definition. (And apologies to Julie Berrin Silverman who shot the original photo we used. It's been floating around uncredited on the internet for sometime, and we tried in good faith to identify the correct photographer.)
A few more details of interest:
As someone rightly pointed out, a group of musicians from Delaney & Bonnie would soon became the core of Derek and the Dominos. One year later, bassist Carl Radle, drummer Jim Gordon and keyboardist Bobby Whitlock would contribute to what is considered by many to be Clapton's career high point, Layla and Other Assorted Love Songs, released in November 1970.
Clapton had chosen Delaney & Bonnie as the opening act of the Blind Faith tour but he may have had some misgivings. In Clapton: The Autobiography he writes: "For me, going on after Delaney & Bonnie was really tough, because I thought they were miles better than us." It's also worth noting that Delaney Bramlett is the person most responsible for Clapton taking a more prominent role as a singer. In his autobiography, he writes Bramlett "taught me everything I know about singing." Bramlett is seen at the microphone in several of the photographs.
The guitarist next to Eric Clapton in one of the gallery photos is almost certainly Dave Mason, confirming that he was present that day. Blonde-haired Bonnie Bramlett can clearly be seen behind Clapton in one photo.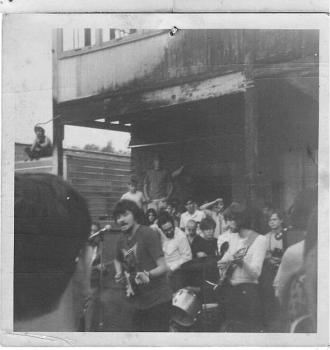 The mention of Chicago DJ Ron Britain as the emcee that day would lead us to believe that is was WCFL that announced the show to fans and not WXRT as someone recalled. WXRT wasn't established as a rock station until 1972.
The testimonial from Fred Koch is priceless. Koch was the guitar player in the opening band that day at the House of Lewis gig. He and his band Pure Smack were from South Haven, Michigan.
Clapton borrowed his Gibson SG guitar for the gig, and said "I have an SG just like this." The detail of Clapton loosening the strings to bend them easier is especially vivid.
Several eyewitnesses also seem to verify the claim that Clapton and friends did the show in exchange for some hip clothing from the House of Lewis. It would be fun to look at photos from his next few stage appearances and see if he's wearing a ruffled, paisley House of Lewis original.
We hope for more updates soon. In the meantime, check back here tomorrow when we look at Janis Joplin's legendary show at Ravinia.