1969 was a pivotal point in Eric Clapton's career. Cream had broken up the previous year, and the 24-year-old Clapton was now part of the super-group Blind Faith, which would dissolve within months.
The summer of '69 found him on his one and only tour with Blind Faith and bandmates Steve Winwood, Ginger Baker and Ric Grech. The opening act was the American folk/soul duo Delaney & Bonnie. They played the Chicago Amphitheater on July 27, 1969.
A day or two before the show, Clapton evidently joined other musicians for a free promotional show in the parking lot of House of Lewis, a hip fashion boutique opening on Niles Center Road next to the Haben Funeral Home. House of Lewis already had a store in Old Town that was "a mecca for bands that passed through Chicago," according to Michael Rafayko, president of a Chicago commercial production services company.
The Skokie Public Library's newspaper index doesn't contain any references to Eric Clapton playing in Skokie during this time, but we tracked down three eyewitnesses.
"It was quite a thrill," writes Judy Clutters, a customer service rep for Weber Grills. "Delaney & Bonnie and Friends played, and Eric was one of the friends."
"The concert took place in a dirt parking lot off an alley behind the store. Nothing fancy at all. The drum kit was set up on a moving blanket," says Rafayko, whose local band Conqueror Worm had opened for Cream the previous year at the Chicago Coliseum.
"We heard about it by word-of-mouth. We didn't think it was true that Clapton would really show and play in Skokie. He was an hour late arriving, but the people at House of Lewis kept saying that indeed he was coming," says Bob Bresler, VP of Tuffy Auto Services in Indiana.
There were 40 or 50 fans gathered in the parking lot; earlier that month, Clapton and his band had played to tens of thousands in Madison Square Garden.
The Skokie show took place 44 years ago, so there are some differences in the memories of the witnesses. Bob Bresler recalls "Eric and Dave Mason trading licks on a blues-based instrumental." Michael Rafayko says "Dave Mason wasn't there. Clapton and Ginger Baker performed." Judy Clutters remembers "Ginger Baker was hanging out but didn't play." Rafayko recalls Bonnie Bramlett was in the audience, and when the band played "I'm So Glad," she said to no one in particular, "F*cker sure is glad, isn't he?"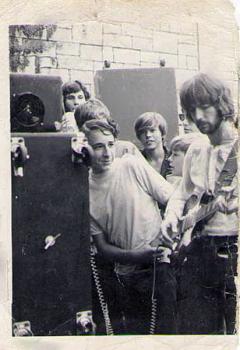 Bresler: "We sat in the alley, at the feet of Eric Clapton. I think they only played a few numbers. My recollection is that Eric just played, did not sing. It seemed like he was just enjoying being with the guys."
"After they were done playing, they all went inside the store. Eric hung out on the back porch and a friend of mine had some innocuous conversation with him. He was too tongue-tied to speak -- he couldn't believe he was actually standing in the back of the House of Lewis with Eric Clapton. Eric disappeared inside the store. We were told they got free clothes out of the deal."
The attached photo was allegedly taken at the show by Gary Brown. It was sourced through a Facebook group called "I Grew Up in Skokie in the 1960s," but as of this writing, we've been unable to verify its source.
Did you see Eric Clapton in Skokie in July 1969? Did you get an autograph or take another snapshot or two? Please help us find a few more pieces of this musical puzzle!