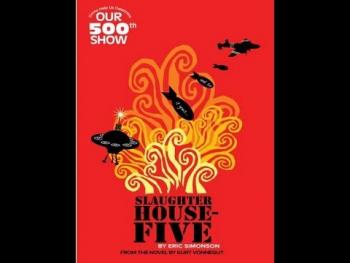 Newer suburban theaters may attract more critical attention, but if slow-and-steady wins the race, The Theatre of Western Springs (TWS), established in 1929, slaughters the competition. This year, they celebrate their 85th season and 500th production with a solid staging of Slaughterhouse-Five, Kurt Vonnegut's mordant tale of a World War 2 veteran "unstuck in time." With stellar work from an ensemble of 30, impressive sets and lighting, and a house without a bad seat, it's no wonder this wry and poignant show attracted hundreds of people to a matinee that coincided with the Bears' home opener.
Their secret weapon is Rick Snyder. The Steppenwolf Theatre ensemble member has been Artistic Director at TWS since last year. If you saw his work at Goodman Theatre in God of Carnage or his Killer Joe at Profiles Theatre, you know that Rick Snyder is a director who understands when to be subtle and when not to pull his punches. He directs his actors across every inch of the stage and manages to focus a story that takes places in both Hitler's Germany and on a distant planet.
"It's a complex show with a lot moving parts, and I enjoy problem-solving," Snyder told us. "It's also fun to shape a season and try to find that new generation of audience members."
Regarding the theater itself, which was built anew in 1961 (in 1976 actor Henry Fonda cut the ribbon for the new addition) he says, "I've been around all kinds of theaters, and this is a tremendous facility. It rivals many theaters in Chicago."
One thing to remember about them: their shows have short engagements. While most theaters have runs of six weeks or more, TWS shows run for just two weeks. Their commitments, however, are long. It's not unusual to find someone at the space who has been involved with the theater for half a century. Just last month they lost their Grand Dame, Charron Traut, who performed 34 roles in 50 years, studied with Lee Strasberg, and acted alongside Lillian Gish.
I'd heard for years that The Theatre of Western Springs was a real find. It took a trip to the village of Western Springs, just a few miles from Oakbrook Center, to convince me. TWS will challenge your notion of what "community theater" can be.
Slaughterhouse-Five has one more weekend of performances and must close Sept 15. Upcoming shows include the edgy Boy Gets Girl by Rebecca Gilman, and The Woman in Black, a spooky favorite from London's West End -- also directed by Rick Snyder.