Both Jesse Jackson Jr. and his wife Sandi Jackson are going to prison for their roles in stealing $750,000 from their campaign funds. Today, the former congressman was sentenced to two-and-a-half years behind bars. Former Ald. Sandi Jackson will serve one year when her husband's through. It's the final chapter in the stunning downfall of the son and daughter-in-law of Rev. Jesse Jackson Sr.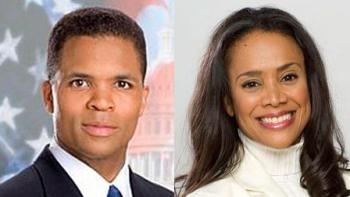 Judge Amy Berman Jackson made it clear that she did not believe Jackson could blame the behavior on his bipolar disorder. The judge also dismissed the pleas to keep the couple out of prison for the sake of raising their kids.
The judge however did commend Jackson Jr.'s record of helping the poor as a legislator and Sandi Jackson's intelligence and grace – perhaps factors that brought their sentences down.
Still, U.S. Attorney Ronald Machen hailed today's decision as, "A wake-up call to other public officials who believe there are no consequences for betraying the public trust."
Today's punishment completes the stunning downfall of a once prominent political power couple.
The 17-year congressman was once thought of as a future presidential candidate, and publicly harbored ambitions to be mayor of Chicago. Testimony during the trial of convicted former Gov. Rod Blagojevich alluded to the possibility that Jackson, through emissaries, had tried to buy the Senate seat vacated by Barack Obama. But charges were never brought against him.
Last year, he mysteriously disappeared from Congress, and later disclosed he was battling bipolar disorder.
Sandi Jackson was a six-year alderman whose tenure at City Council was noted for her frequent absences from meetings, and for residing most of that time in the couple's Washington, D.C. townhouse.
The two admit that they used $750,000 in campaign cash for personal income, never paid taxes on it, and went on a spending spree; buying lavish items like a $43,000 Rolex, $5,000 worth of fur capes, and $7,000 for a pair of Mounted Elk Heads.
Rather than fight the charges, the Jacksons pleaded guilty in federal court last February.
"It was clear that Jesse Jackson became convinced that he could use his campaign account to satisfy every personal whim that he had," said U.S. Attorney Ronald Machen back in February.
And the Jacksons employed staff members to help execute, launder money, and cover up their scheme. Defense attorneys tried to convince the judge to go easy on Jackson because of his bipolar disorder.
"Those health issues are directly related to his present predicament," said Jackson Jr.'s defense attorney, Reid Weingarten. "That's not an excuse, that's a fact."
The Jacksons are ordered to forfeit the $750,000 they stole from the campaign but will not have to pay an additional $750,000 in restitution. They have decided to have Jesse Jr. serve his 30-month sentence first. Sandi Jackson's sentence of exactly one year means she will not be eligible for any time off for good behavior.
View a timeline of Chicago Tonight's coverage of key events in the Jackson saga from 2009-2013, and watch interviews with Jackson Jr. from WTTW's archives.