Among the 14 historic ships heading for Chicago's Tall Ships Festival is the "Lynx," a two-masted schooner modeled after an 1812 "privateer." I spent 24 hours on the Lynx as it sailed to Chicago. Here's my behind-the-scenes look:
The tall ship "Lynx" is based in Newport Beach, California but spends almost all her time away from home, as a kind of floating museum and school.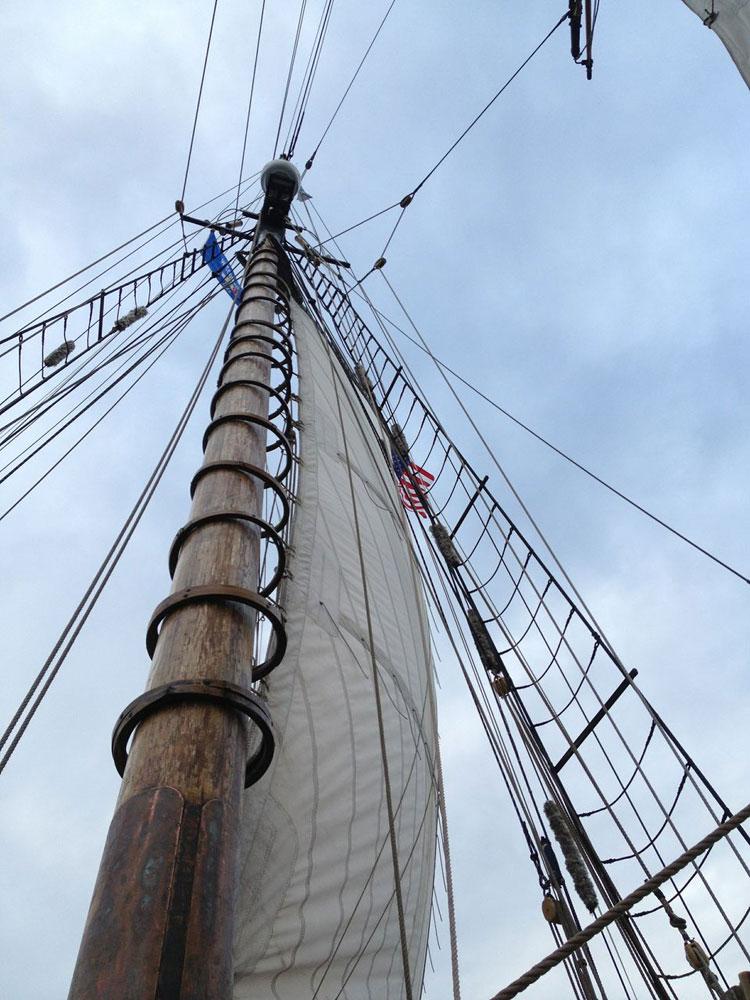 Lynx left Mystic, Connecticut in late May, and has been on a Tall Ships festival circuit since then. She came to Milwaukee to pick me up, along with cameraman Tom Siegel, before heading for Chicago.
The captain of the Lynx is long-time tall ship sailor, Stefan Edick. He is not too excited about sailing south to Chicago with two days of south winds. But he says it looks like we may be spared the storm system that's been heading our way.
   
"About 10:00 this morning, it broke in half and much of it passed to the south, and the rest passed to the north," said Edick. "I do expect that we will still get some rain here overnight, but not as dramatic as it looked first thing this morning."
The Lynx was launched in 2001. The design is based on an earlier Lynx that first sailed in 1812. That one was a "privateer," essentially a warship for hire.
At the start of the war of 1812, the American navy had only 17 ships, so private citizens built their own and were given special permission to prey on enemy vessels.
The privateers rarely took on English warships. They'd go after enemy merchants and supply ships. The aim was to capture them, and then sell the prize ship and cargo at auction for a profit.
"And depending on the cargo in the prize, it was possible and did happen a number of times, that a ship could go out on one voyage, capture one prize, and its entire crew could retire on the income from the auction," said Edick.
The Lynx is a square topsail two-masted schooner. She's 122 feet long, about three-quarters the size of the original.
In addition to using modern navigation and safety gear, the designer made some changes to hull shape and ballast to improve stability in rough seas.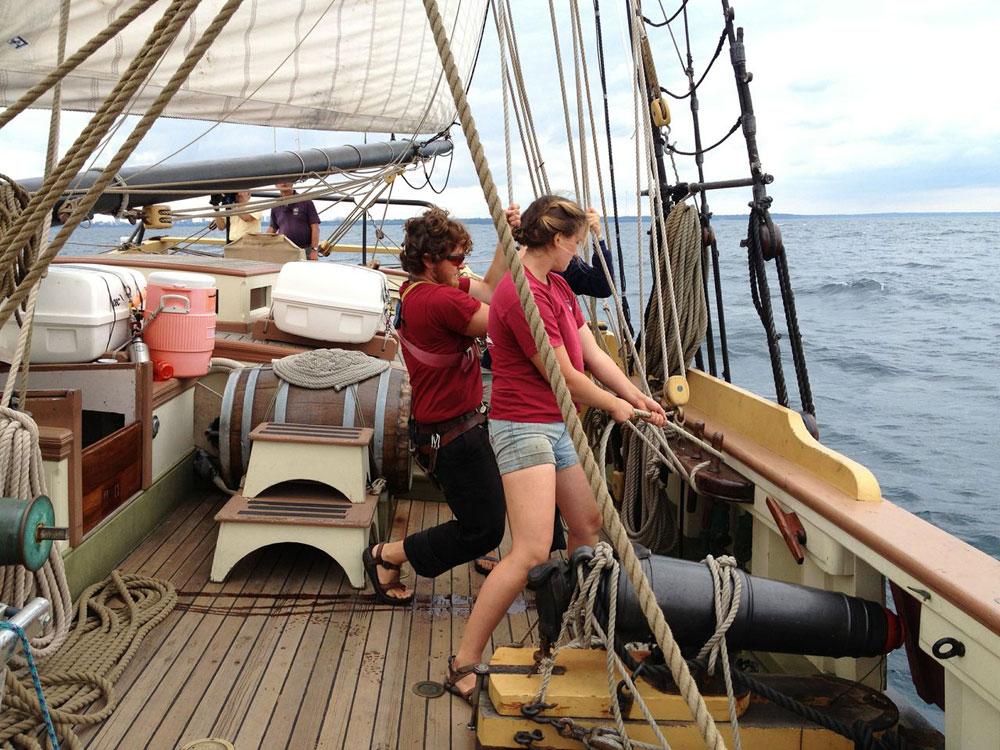 One other difference: the historic Lynx sailed with more than 40 men, enough to capture and then sail an enemy ship. The modern Lynx has a crew of nine.
The crew works in four-hour watch shifts around the clock.
For a deck hand's view of the ship, we asked Roanna Herndon to wear a GoPro camera as she climbed out onto the head rig. There is a lot of climbing and rope pulling, sometimes at a furious pace. 
But there are also remarkably quiet times when you just stand watch, staying on the course set by the captain and looking out for other ships, weather changes, even debris that could damage the ship.
And each crew member has some specific responsibilities.
Christa Culbert is the engineer on board.
"I basically take care of everything below the deck: the main engine, plumbing , electrical, stuff like that," she said.
Kori Pepper is the cook and sometimes deck hand on board. Her real, given name is Koriander Pepper. But, she says her real job title should be chief morale officer.
"I've been a deck hand, so I know exactly what it's like to be cold and miserable on deck at 2:00 in the morning when it's raining, so I'll keep a pot of soup on the stove when it's really cold and wet," she said. "You know, just trying to keep morale up, that's my job."
The food, by the way, was delicious and plentiful, and included the captain's favorite bratwurst, fresh from Milwaukee.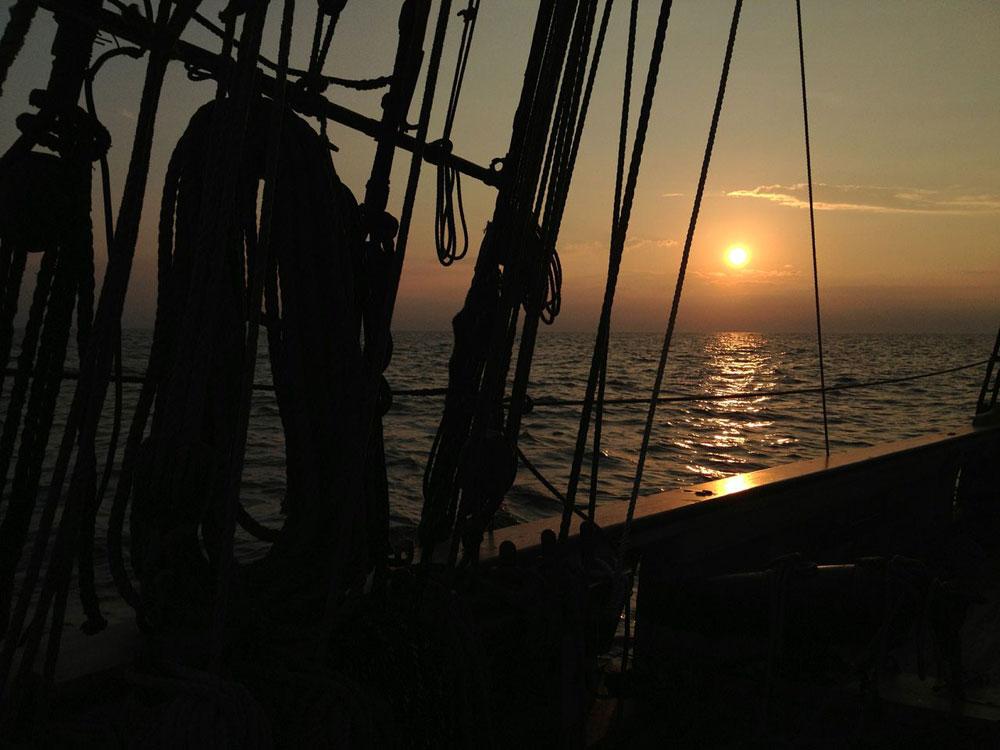 There's not a lot of real down time on a ship. Most of the time, you are either working, sleeping or eating. Occasionally there is time for a song.
At one point in the afternoon, it dawned on me that after a lifetime on Lake Michigan, this is the first time I've been on the lake with no sight of land.
By 5:00 pm, there's still no rain, but the mild south winds have continued all day, so instead of sailing straight to Chicago, Captain Edick has had to tack.
"Typically speaking, when you're reckoning sailing upwind, you double your distance," he said. "The straight line distance by water from Milwaukee to Chicago is about 80 miles. We would base our reckoning on having to sail 160 miles."
As the sun began to set behind pretty heavy cloud cover, we did get a little rain, but never the storms we feared.
But I was beginning to worry about sleeping below decks. Our guest berths, behind the curtains in the main salon, looked very comfortable, but how would my stomach handle the rocking all night?
At 5:30 the next morning, I had my answer. Sleeping down below was actually great. Not only did I not feel nauseated, but it was really comforting to sleep in the rocking ship.
I came up on deck once during the night because it felt like we were going faster. The captain said he had found some wind and we were doing 6.5 to 7 knots. That's only about 8 miles per hour but it did feel pretty fast.
By morning though, the wind had died again and the captain turned on the ship's engine.
"Sailing ships are representative of a much less time-compressed era," said Edick. "And we need to get to Chicago. We have a busy festival we need to get to."
Throughout the year, the Tall Ship Lynx does educational trips with adults and children. Earlier this week, I was their only student. In the web extra video below, second mate Samantha teaches me how to climb to the top of the ship's foremast.
---
Below, a map of Lynx's journey. Click the image to see a larger version.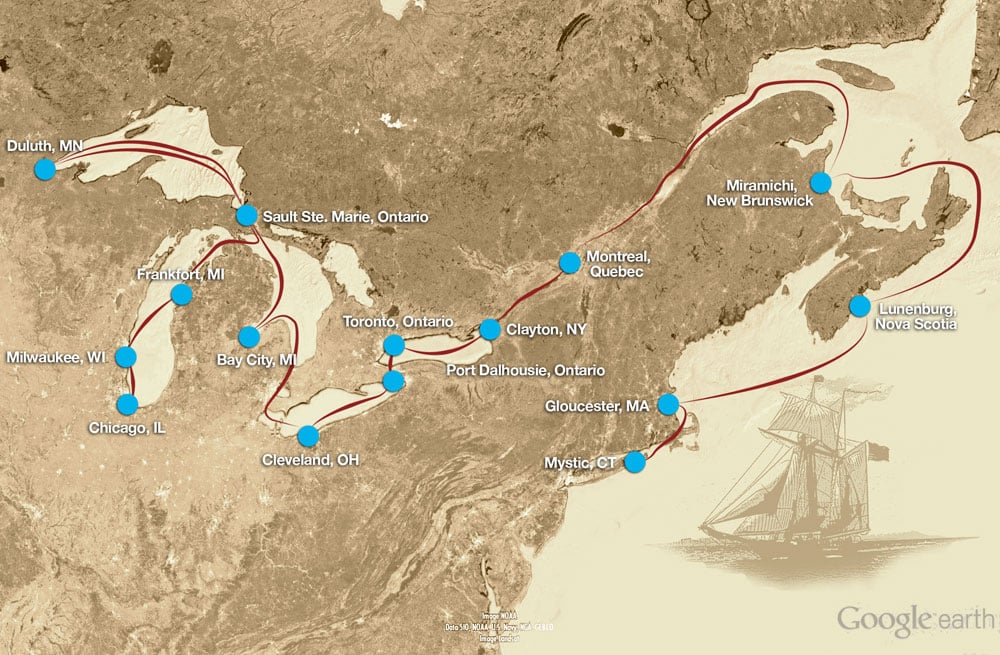 ---
More on the story: Watch Web Extra: Dawn on a Tall Ship for a video postcard of my trip:
---