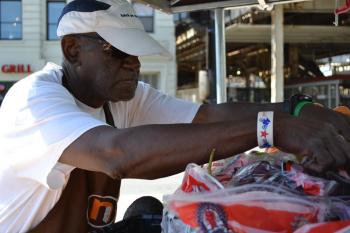 Fifteen years ago, Wahid Rashad was a mortgage broker in Chicago and owned several properties.
"When the mortgage crisis occurred, not only did I lose all of the property, but I lost my spirit, I lost my self-esteem," he said. "I was just falling, falling, falling."
Rashad found himself out of work, depressed, and living in flophouses.
Today, he is one of more than 20 men and woman who are selling produce at "neighbor carts" around the city.
"Neighbor Carts are Chicago's newest job creation opportunity that combines workforce development with healthy eating in an attempt to combat food disparity around Chicago neighborhoods," said Jim LoBianco.
LoBianco is the executive director of Streetwise, which is handling recruiting and training for Neighbor Carts. Some of the produce vendors are, or were Streetwise vendors. 
"I've always worked on the street selling something," said Andy Alan. "And so, therefore this is a new opportunity to sell something healthy for the people."
But Neighbor Carts is not a social service program, it's a for-profit business.
John Piercy is the founder and CEO of Neighbor Carts.
"Retail was always my passion. I was raised in it. I've always loved it," he said.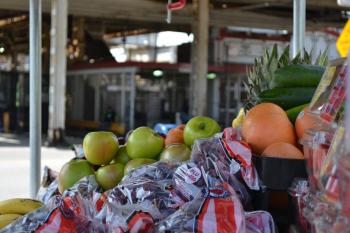 Piercy has also worked in the nonprofit world.
"I got to see firsthand all the great work that nonprofits were doing, but felt like one of the big challenges was that the funding always dried up," he said.
Piercy tested the business in 2012 with eight neighbor carts. This spring, he has 11 with another 19 due to open in July.  
Half the carts are in underserved neighborhoods. This meets the city's requirements for street produce vendors and also Piercy's philosophy for what he calls an "impact business." 
"We're really passionate about retail that is dignified in the sense of what's good enough for a community in Streeterville is also good enough in a neighborhood like North Lawndale," he said.
North Lawndale is one of 29 neighborhoods in Chicago designated a "food desert" by the city, which means they're lacking in readily available fresh produce and other healthy food. 
Ivier McSwine runs a neighbor cart outside a health clinic in North Lawndale. 
"There's a lot of gas stations, very few grocery stores. And most of these retailers are selling unhealthy junk food," he said.
McSwine grew up in Englewood, another food desert, and for a while he was a neighborhood success story. He got a full ride to college on a basketball scholarship, and then went to graduate school.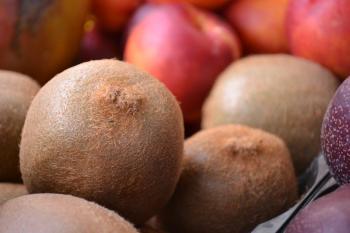 "I have a Masters in Accounting, I have a Masters in Counseling, and I have a Masters in Black Studies," he said.
But McSwine had a cocaine addiction that began after his second Master's degree. Now, he is in treatment at Hope House, right down the block from his cart.
Hope House is part of the Lawndale Community Church, another of Neighbor Carts' nonprofit partners. 
"Actually it just provides these guys with an opportunity to do something constructive," said Pastor Joseph Atkins Jr. "And also to build up their work ethic and some work skills."
Piercy says that when you're running a business with men and women who are overcoming drug addiction, incarceration and other challenges, the nonprofits are key to making it work.
"Our goal here is to create something that can empower individuals who have had a difficultly in their past, but to do it as a business, and really collaborate closely with community agencies like Streetwise that have done really fantastic work, and can attest to a person's readiness to be able to take on a more involved work," said Piercy.
After 40 hours of classroom training run by Streetwise, the neighbor cart vendors are trained on the street for up to 60 days.
During that time, they are paid an hourly wage regardless of sales. As the training progresses, they get more independence in pricing and selecting their merchandise. If they run their carts well and are successful in sales, then they operate the carts on their own. That means they lease them from the company and their income is determined by their sales minus their costs, with a guaranteed base pay of $360 a week.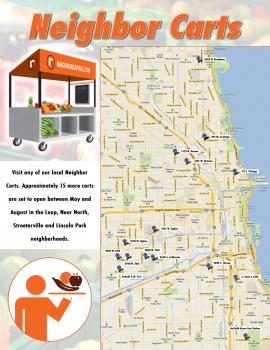 Wahid Rashad is one of four vendors who works this way. He says independently managing his cart in Uptown has meant increasing his income and serving his customers better.
"I'll give you an example: apricots.  A lot of people have not seen fresh apricots before," said Rashad. "So, if we're introducing it, I might want to change the price to make it more reasonable, to make it more acceptable to encourage them to try it the first time."
At McSwine's cart in North Lawndale, he's decided to keep his prices low, so he can sell out by the end of the day. The profit margin is lower, but volume goes up, and he has fresh produce every morning.   
It's all part of learning to run a business and rebuilding your life.
"If people are going to look at my credentials and say, 'well, you don't qualify for this job for the simple fact that you have too many felonies,'" said Alan. "But, with this, it's allowing me the opportunity to better myself and to make an honest living."
Piercy says he'd like to see 75 neighbor carts within five years. And with the number of enthusiastic customers, he may have a shot at it.
"It's the best fruit that I have found anywhere in the city," said customer Abdul Bari about Rashad's cart. "For an outside fruit stand, it's fresh daily and it's always high quality. I have to give him that."