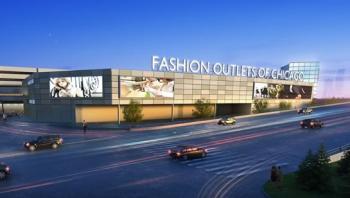 With hundreds of workmen still toiling away, the dust has not yet settled at the Fashion Outlets of Chicago in Rosemont. But everywhere an early visitor looks, there are signs that some pretty big name retailers are getting ready to move in.
If you look past the plaster, paint and scaffolding, an elegant Michael Kors shop is waiting for merchandise. At the far end of a phalanx of laborers is a yet-to-be stocked Bloomingdale's outlet. And, for now, a simple piece of paper is the only sign of where a Last Call by Neiman Marcus will soon be offering bargains.
When it opens next week, the mega outlet mall will house nearly 130 retailers in its 530,000 square foot space, and its developer promises it will be unlike anything the Chicago area has seen before.
"The rules that this center broke were rules that needed to be broken. They were begging to be broken," said Developer Arthur Weiner. "It's fully enclosed, two levels -- never been done before. It is next to the third largest airport in the world, never been done before anywhere in the world. It's wrapped around a seven-deck, structured parking garage, never been done before. It is never more than 75 feet from the entrance to a shop, never been done before. You go to an outlying outlet center, you're walking 700 yards after you park your car."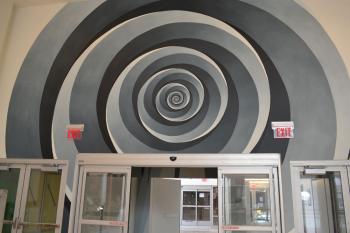 The mall will have some familiar outlet stalwarts like Gap, Coach and Tommy Hilfiger. But, added to this mix will be some high-end names not normally associated with outlet malls, such as Prada, Armani and Barney's. Weiner says all of them will be bringing what he calls "brand pride."
"What brand pride is, it's simply a matter of people going to see these stores with a greater frequency than they will in the outlying areas," said Weiner. "And therefore they want to see the brand that you portend millions of dollars into. They want to see that. They don't want to see just a poor glassfront and aluminum emollient. They want to see brand pride."
And, if location is everything, the Fashion Outlets of Chicago has landed in a plum spot: just off the 294 expressway across the street from O'Hare airport. When traffic is flowing, it's a 20-minute drive from downtown Chicago. Up until now, the outlet malls nearest to Chicago have required a hefty drive to the Wisconsin border or far west suburban Aurora.
Chicago retail consultant Neil Stern says it will be a game changer for both the outlet concept and retail shopping.
"Most outlet malls were very bare bones in their construction. So you didn't have enclosed indoor, you don't have air conditioning. You have very scant amenities like food service," said Stern. "So this mall does plan to be a game changer in the outlet community in terms of having full-service restaurants, the artwork, and a much more pleasant environment."
While the retailers at the new mall may be upping their game in terms of quality of merchandise, Stern says shoppers shouldn't expect to find Rodeo Drive or Oak Street fashions at discount prices.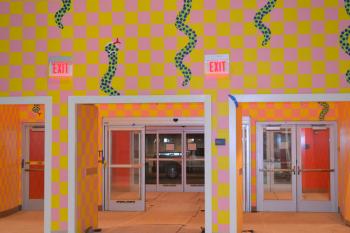 "Some of that product is the real thing, the genuine Prada, Armani, sold at a discount. A lot of the product is made for that outlet. It's made for Prada, but it is not the same product you would find on Oak Street or Michigan Avenue," said Stern. "What you're going to find in this outlet is a mix. If you're a careful shopper, you're going to find some real genuine bargains of fashion products sold for less. You're also going to find a lot of product in there that is made for an outlet mall. It's sold for less money. It's a value, but it's not the same thing you're finding off the runway."
Still, the Fashion Outlets of Chicago is trying to class up the outlet experience. Two full-service restaurants and a food court are part of the mix, and a concierge service will be offered for air passengers using the airport across the street.
Travelers will be offered a shuttle service to and from O'Hare, and there will even be a baggage area where visitors can leave their belongings while perusing the mall.
"12,000 hotel rooms ensured in the area. You check out approximately at 11:00 am. If your flight's at 4:00 pm, bring your bags, drop them off. Your baggage will be shipped straight through and you can pick up your boarding pass," said Weiner. "And we'll let you know what time you catch your shuttle back to the airport to make your flight."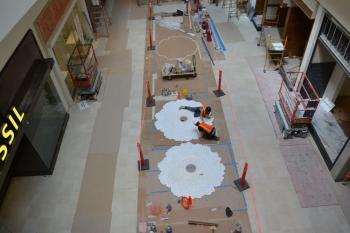 And there will be one other feature at the new mall that no outlet shopper has ever seen before. The Fashion Outlets has commissioned 11 artists to create new and massive works for the mall. Some of the impressive artwork is already in place. Others are still in the process of being created and installed. View a slideshow.
30-year-old, Miami-born artist Jen Stark is producing some of that artwork.  A large telescope-like mobile will hang above roaming shoppers. Another, more psychedelic of her creations, will grace what otherwise would have been the plain underbelly of an escalator.
"There's going to be so much foot traffic, and it's just awesome to have everyday people, that might not have necessarily gone to a gallery or a museum, see your work every day," said Stark. "It's not for a brand or for a store. It's my art."
The Village of Rosemont offered up $50 million in grants and tax breaks to lure the mega mall to the tiny municipality. If the big expectations for it come true, Rosemont, and a lot of retailers and developers, could be seeing quite a payoff for years to come.
The Fashion Outlets of Chicago is more than 90 percent leased; something analysts say is rare these days. It cost $250 million to build, and is scheduled to open on August 1.
Photos and captions by Rochelle Shipley.