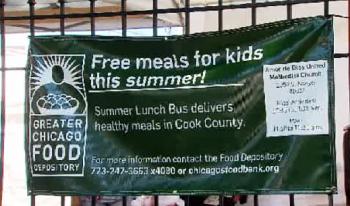 Hunger is rising; 860,000 people were food insecure in Cook County in 2011. Out of those, one in five were children. The Greater Chicago Food Depository, a nonprofit food distribution and training center, which provides food for hungry people while striving to end hunger in Chicago, is expanding summer feeding programs to serve kids who usually receive their meals at school.
According to the Greater Chicago Food Depository, summer is the most crucial time for feeding kids who depend on schools for free and reduced cost breakfast and lunch during the school year.
The Greater Chicago Food Depository is preparing for its largest response to summer hunger this season, and is on track to serve more people this year than in its 34-year history. The Depository is serving 77 percent more people now than it did five years ago, and this summer it hopes to distribute more than 282,500 meals to children.
One solution to summer hunger is the lunch bus program, which will distribute nutritious lunches in refrigerated vans to 21 stops along three routes. These vans will serve communities throughout Chicago and the south suburbs every weekday.
"The reality for hundreds of thousands of children is that, during the summer, it is a time for uncertainty and hunger," said Jim Conwell, Communications Director at the Greater Chicago Food Depository. "It is a struggle to put extra food on the table, but addressing food hunger is a big priority and giving access to meals where children play will help connect the gap in nutrition during the summer."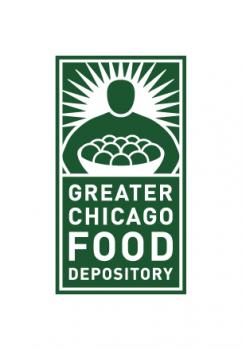 This June, the U.S House of Representatives voted down the farm bill to cut $20 billion from the Supplemental Nutrition Assistance Program (SNAP), or food stamp program, which helps more than 47 million people in the U.S. The farm bill is a comprehensive legislation that provides funding for most federal farm and food policies like SNAP.
"Any farm bill that cuts vital food programs would weaken the first line of defense against hunger in the United States and Chicago," said Conwell. "The private response wouldn't be able to cover the gap in hunger that is left behind."
However, last Thursday, the U.S House passed a version of the farm bill that separated SNAP from the rest of the farm bill. The SNAP program, which accounts for 80 percent of the bill, has always been linked to the farm programs in the farm bill. This division provides room for a separate food stamp bill at a later date, but until then, food stamps will continue. The Senate also passed its own version of the bill that includes food stamps but would cut them by $4 billion.
The future of the SNAP program might not look so grim but, according to Conwell, "regarding hunger, the important thing is to make sure that children get meals by raising awareness of programs available. Programs exist and they are effective, but they are only effective if people know about them. We want to ensure that awareness is heightened."
Joining us on Chicago Tonight at 7:00 pm with more on the program is Kate Maehr, CEO and Executive Director of the Greater Chicago Food Depository.
To find children's summer meal sites near you:
• Text FOODIL to 877877
• Visit summermealsillinois.org
• Call 1-800-359-2163
Free summer meals are sponsored by the USDA and administered by the Illinois State Board of Education.