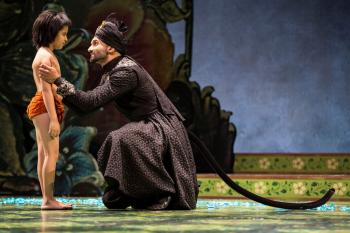 Chicago Tonight gets an inside look at the long-awaited Goodman Theatre production of The Jungle Book. Based on both the original Rudyard Kipling stories and the 1967 Walt Disney film, this new stage musical was created by special arrangement with Disney Theatrical Productions, and directed by Tony Award-winner Mary Zimmerman.
We hear from Zimmerman, young star Akash Chopra (who portrays Mowgli), co-star Kevin Carolan (Baloo) and Richard Sherman, one of the composers of the beloved Disney tunes, on Chicago Tonight at 7:00 pm.
View a slideshow from the production.
Watch a web extra video below of Oscar-winning songwriter Richard Sherman performing the popular tune, "I Wanna Be Like You" from The Jungle Book. Sherman co-wrote the song with his late brother Robert at the behest of Walt Disney himself. Sherman was in town to consult on the Goodman Theatre's new stage production.
View a montage of clips from The Jungle Book below: