A closer look at fish that inhabit the Great Lakes; a wide variety of snacks for foodies; and The Jungle Book at the Goodman Theatre. Chicago Tonight knows what's going on this weekend.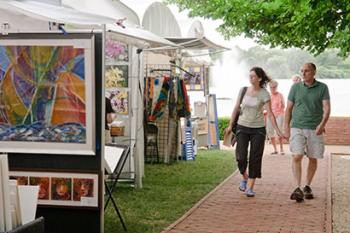 Chicago Botanic Garden Art Festival
Art lovers will enjoy the third annual Art Festival at the Chicago Botanic Garden this weekend. Attendees can chat with artists, watch demonstrations, and explore more than 100 booths that will showcase botanic-themed paintings, photography, ceramics, jewelry and more. Artists at the event will display a wide assortment of specialties including wearable silk art, copper and stone animal sculptures, birdhouses, hats, outdoor adventure photography, hand-blown art glass, and Chinese brush painting. However, not all the masterpieces made at the festival will be produced by professionals. Young artists who want to show off their skills can create unique treasures of their own in the family activity tent. This will all take place on the Esplanade, an open-space right alongside a beautiful lake. The weekend will begin with a members-only first look at the festival on Friday, July 5, from 5:30 to 8:30 pm. The festival will be open to the public on Saturday and Sunday, July 6 and 7, from 10:00 am to 5:00 pm. There is no admission fee, and regular parking fees apply. To learn more about the artists who will be at this year's festival, click here.
Chicago Botanic Garden
1000 Lake Cook Road
Glencoe, IL 60022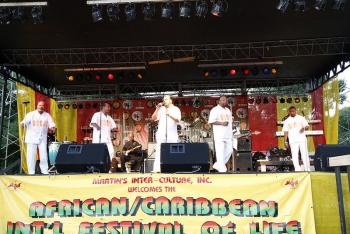 African/Caribbean International Festival of Life
Each year, The International Festival of Life (IFOL) brings thousands of Chicagoans together to enjoy great tunes, lots of food, a couple hundred vendors, and kid-friendly games during a fun-filled summer weekend. Since its inception in 1993, the festival has been dedicated to celebrating the humanity of all people. This weekend, the 21st annual International Festival of Life is changing things up by moving to a new location, Union Park in the West Loop. During the event, more than 70 Reggae, World Music, R&B, Latin, rock, blues, and jazz performers will take the stage. A few highlights on the long list of performers this year include Luciano, Inner Circle, Sanchez, and Billy Branch and the Sons of Blues. In addition to entertaining, the festival will also educate attendees this year through a new Health Awareness Pavilion. The festival takes place July 5-7, from 12:00 pm to 10:00 pm. Tickets purchased in advance are $15, but they can also be purchased for $20 at the gate. Tickets for kids 6-11 are $5. Kids under 6 are admitted for free. To learn more about the event, click here.
Union Park
1501 W. Randolph St.
Chicago, IL 60605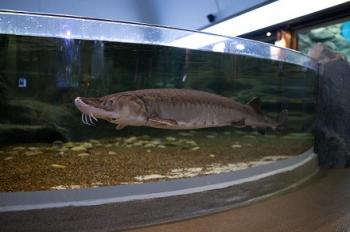 At Home on the Great Lakes exhibit at the Shedd Aquarium
If you're interested in learning more about the fish that live in our very own Lake Michigan, you may want to check out the newest addition to the Waters of the World exhibit at the Shedd Aquarium this weekend. Through the revamped gallery of the At Home on the Great Lakes exhibit, museum guests will learn more about the fish that swim around in the Great Lakes region.  Featured fish include a nocturnal salamander called a wrinkly hellbender, Asian Carp, and colorful sunfishes. With the assistance of a Shedd staff member, brave fish enthusiasts will even have the opportunity to touch a lake sturgeon—a species that has survived for more than 200 million years while visiting the new Sturgeon Touch Pool. General admission to the aquarium, which includes access to the Waters of the World exhibit, costs $8 for adults and $6 for children, ages 3-11. Tickets can be purchased on-site. This weekend, the At Home on the Great Lakes exhibit is open from 9:00 am to 6:00 pm. To learn more, click here.
John G. Shedd Aquarium
1200 S. Lake Shore Drive
Chicago, IL 60605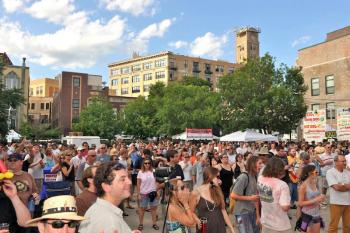 Taste of Lakeview
It seems safe to assume that the food at Taste of Lakeview is pretty delicious, considering that the event attracts about 40,000 Chicagoans each year. This weekend, foodies have an opportunity to try a wide selection of tasty treats at this year's Taste of Lakeview event. Whether you're a meat lover or a person with a sweet tooth, this event has something for everyone. Featured vendors include Jet's Pizza, Moe's Cantina, Fannie May, and Old Crow Steakhouse. Those who like dancing in addition to food are in luck. The festivities will be accompanied by live music all weekend long. Headliners include Too White Crew, Mike & Joey, 16 Candles, and Hairbangers Ball, and a suggested $5 donation will go toward helping the West Lakeview Neighbors, an organization that represents the residents of Lakeview. Taste of Lakeview will take place on Saturday, July 6 from 12:00 pm until 10:00 pm, and Sunday, July 7 from 12:00 pm to 9:00 pm. For more information, click here.
3200 – 3400 N. Lincoln at Belmont
Chicago, IL 60657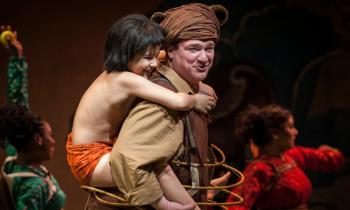 Goodman Theatre presents The Jungle Book
This week, on Chicago Tonight, Chicago Sun-Times Theater Critic Hedy Weiss reviewed this summer's family-friendly production of The Jungle Book at the Goodman Theatre. The new adaptation of this classic story, which is directed by Mary Zimmerman, includes songs from Disney's animated film version, as well as original Indian inspired music and dance. Speaking to us about the production, Weiss said, "There are Indian musicians that come on stage at certain moments and they are just magical." Another highlight Weiss pointed out is Akash Chopra, the "adorable" 10-year-old who plays Mowgli. "You can see the music going through his body," she said. "I think he's really a charmer." Tickets for the 2 hour and 15-minute show, which will be performed through August 11, 2013, cost between $27 and $125. To learn more about the production, click here.
The Goodman Theatre
170 N. Dearborn St.
Chicago, IL 60601