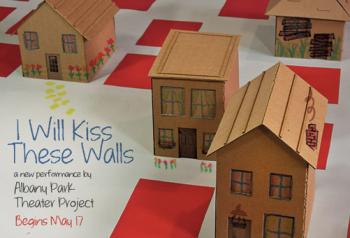 Teenagers from the northwest side create a play about the foreclosure crisis and the various ways activists are fighting to keep people in their homes. We preview the Albany Park Theater Project's "I Will Kiss These Walls" on Chicago Tonight at 7:00 pm.
It's a story of home, the perils of uncertainty, and a call-to-action from the community and the financial institutions in the looming foreclosure epidemic. Some Albany Park community activists have built camaraderie among residents while providing a common place of learning and unity.
Roberto de la Riva, lead community organizer at the Albany Park Autonomous Center, a segment of the Mexico Solidarity Network, collaborated with the Albany Park Theater Project team, connecting community residents undergoing housing issues from eviction to foreclosure, with the young performers of APTP. Their stories relived on stage render the semblance of reality in which many people are faced with. The Albany Park Autonomous Center, or Centro Autónomo, opened its doors in September 2006 to create a place where people can meet their neighbors, share stories and dreams, and create community-driven projects for empowerment.
We spoke with de la Riva about the evolution of the organization's relationship with the community and APTP leading up to the play, I Will Kiss These Walls.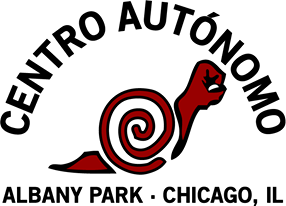 How has the Albany Park Autonomous Center (Centro Autónomo) played a role in the Albany Park Theater Project?
Basically, we were the principal movement; including the Chicago Anti-Eviction Campaign and Communities United Against Foreclosure and Eviction in which the Albany Park Theater Project was modeled after. We organized a housing group for homeowners and renters in the community facing foreclosure. We talk about foreclosure and interconnect experiences in foreclosure. Within those meetings, we talk about the politics of foreclosure and how the banks are putting profits before people. Basically, APTP approached us because they knew about our movement. We've been organizing with them for around a year. They have walked with us during bank protests, came to our meetings, and participated in our other efforts.
Centro Autónomo is known as a community hub and place to take up education-based ESL classes, housing organizing and more. How did the relationship with APTP come to be?
We began our housing work in 2011. APTP approached us last year and built trust within the organization and the community. They have a really close touch with what is happening in Albany Park. And the theater performances represent what happens in the community.
The stories conveyed in I Will Kiss These Walls are real disadvantages that people in the Albany Park community are faced with. How did Centro Autónomo play a role in telling these stories?
We welcomed APTP to our meetings. They conducted interviews with people who welcomed them into their homes and shared those stories with the rest of their team. They interviewed me, and I think one of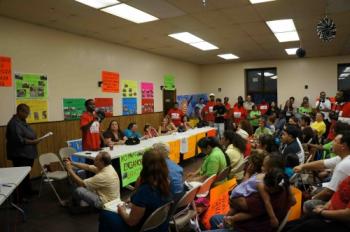 the most beautiful things the group did was to take an individual aspect and make it into a collective aspect where everyone is learning and involved in the group. It was very dynamic. I think that whenever you have a point in somebody's life in which they speak to their experiences in a collective fashion, it's going to be beautiful.
How has sharing the stories of Centro Autónomo members changed the organization?
Well, it's threefold. First of all, these people have gone from never telling their stories to owning their stories. They go from yelling at the banks to the banks seeing them fighting. And then their fight is publicized via the media and people see what they are doing. It has changed the conscience of the center. It changes many people's minds about being poor because they move from a place of shame, but then it changes the communities because they see that we can win and fight for justice. Just the other weekend, we took the housing group to see the play. We are coming to a more profound conclusion of where we've gone.
How many people are members of the housing group?
Right now, we have about 70 members in our housing trust. Throughout the community, the housing trust looks to take out homes from the market and make them permanently affordable for the community. We are a 501(c)(3) nonprofit organization. We established bylaws for people in foreclosure. Because some people have been faced with debilitating illnesses and losing their jobs, we wanted to create a model where people can stay in their homes so this will never happen again. In the trust, everyone owns a piece of the home. Dwellers of the homes pay an affordable fee that goes back to the membership. It's just so that this foreclosure won't happen again. We call this "casa del pueblo," or the house of the people.
How has Centro Autónomo benefited overall from working with APTP?
It's immense. When you are struggling with something from a long process, for many people it holds a warm spot in their heart that makes them see where they come from and where they are going today. In this play, you learn about an immigration story, domestic abuse, and how people's lives are affected in the housing market. Whenever you are able to really feel the process of reflection and connect that to a process of action, you are going to have some profound changes in the world. It's so important because it's telling a history that doesn't get told. In the housing meetings, they feel inspired, thankful, and accomplished. It's a huge validation. This is going to make things stronger.
It seems like the collaboration between Centro Autónomo and APTP may be a platform for the voiceless to be heard. Would you say this is true and why?
There is something to be said when somebody can watch their reality in a mirror. Sometimes when you are in present reality, you can't see the whole picture. I just think that the partnership between APTP and the community organizations is really close. We really appreciate one another and what we each can do for the community in different mediums. This connection allows for the media to talk about this, and the situation and hardships in our life.
Interview has been condensed and edited.
---
On June 22, U.S. Rep. Jan Schakowsky of Illinois' 9th Congressional District attended APTP production of I Will Kiss These Walls. After the performance, the congresswoman spoke briefly with WTTW producer Dan Andries about the play and the issues it raises. Watch the web extra conversation: