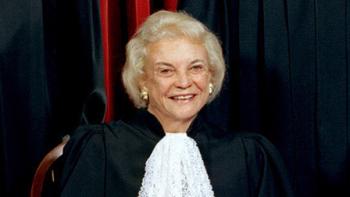 Appointed by President Ronald Reagan, Sandra Day O'Connor will go down in history as the first woman ever to serve on the Supreme Court. But beyond that, the now-retired chief justice defies easy characterization. The political moderate provided a swing vote on a number of landmark cases – from Planned Parenthood of Southeastern Pennsylvania v. Casey, which affirmed the key pillars of Roe v. Wade, to Bush v. Gore, which divided a nation and elected George W. Bush to the presidency.
Since retiring during the Bush years in 2006 – Justice O'Connor was replaced by Justice Samuel Alito – O'Connor has stayed active. At 83, she still occasionally sits in on Supreme Court arguments. She recently penned a book on the history of the court, titled Out of Order. And these days, she's crisscrossing the country to promote an initiative to improve civics education in schools.
We recently sat down with the retired justice for a wide-ranging talk. We bring you that conversation this evening on Chicago Tonight at 7:00 pm. She reflects on her time on the court and her life since then – from her frustration with Citizens United to the customs that bind the justices together, to her relationship with the court's three female justices. Namely, O'Connor looks back at the ways in which the institution has – and hasn't – changed.
View a timeline of key events in Sandra Day O'Connor's life and career:
Shanika Gunaratna, Drew Kann, and Yasmin Rammohan contributed to this report.