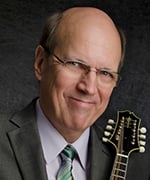 He has been called "a musician's musician." He's mastered the mandolin decades ago and has raised the bar of what the instrument can do. Along with traditional folk and bluegrass, he has demonstrated that the mandolin can also play jazz- or whatever else he wants it to play.
We look back at a special performance from  and revisit our conversation with him about playing a traditional instrument in a modern way. Stiernberg and his trio will be playing at The Whiskey Lounge in Evanston tomorrow night.
---
Watch a web extra performance of "Bix in Rio" by Don Stiernberg.