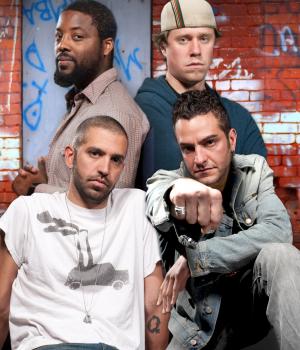 Chicago's Q Brothers are putting a new spin on a Shakespeare classic with Othello: The Remix at Navy Pier's Chicago Shakespeare Theater. They join us on Chicago Tonight at 7:00 pm.
We spoke with Rick Boynton, the creative producer of the play. Read our Q&A:
Explain how you've changed the original play for your new production, Othello: The Remix.
We take the story of Othello and then we riff on it. The Q Brothers' process is interesting. They start with a direct hip-hop translation - in that they put the play into a hip-hop vernacular – and then we play with it. There are only four guys performing, so we have to get rid of characters.
How have people who know the original reacted to the changes?
People who know the play are really impressed with the work, the nuances, and those aren't familiar with it are really interested in the story. We've gotten a huge response, we're really proud of it. It's awesome.
Tell me about the Q Brothers.
The Q's are uber-creative and really funny. We really trust one another. It's sort of a family relationship. They're really funny, our personalities are similar and our senses of humor are similar. We understand how a play needs to be laid out. When we're working, we're always trying to reveal more, to sharpen their vision. It's always just a positive experience.
Hip-hop is really sophisticated. An amazing thing the Q's have done is take this multi-syllabic, dense language and made it accessible and funny; and use musicality of language and song to convey everything that Shakespeare wanted to convey.
Do you think that all of Shakespeare's plays are as available as Othello for the hip-hop treatment?
I think hip-hop lends itself to the comedies really well, there's an inherent irreverence to them. The musicality lends itself to comedies, and even though Othello is a tragedy, there's so much humor in this piece. Even with that humor, when the drama of the play hits, people have said they've never been as moved as they had while they've been watching this production.
Do you think you're making this play accessible to a smaller segment of the audience with the hip-hop treatment?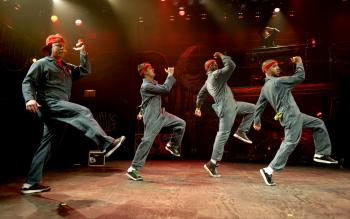 What's been really great, we did our first preview and our opening at the Globe in London. The audience was so diverse, from teenagers to people in their 90s. And what we found was that the show walked across the entire demographic, that it played across all age boundaries. The story is so clear and clever; it never uses the cheap tricks. There's a lot of times when Shakespeare had cheap tricks, but this play is genuinely funny and tragic.
What would Shakespeare think of your version of his play?
I would think he would like the wordplay. He was famous for coining words, and that's also something that happens regularly in hip-hop. It's got a different rhyme scheme, but it tackles big ideas, it's passionate, it's visceral and it embraces everything.
What do you want people to walk away with after watching this play?
I want people to have had a great time. I hope that they will have laughed, been moved, been told this great story in a form that they have never encountered before.
This interview has been edited and condensed.