Picasso, a historic opportunity for the Blackhawks and a mass bike ride. Chicago Tonight knows what's going on this weekend.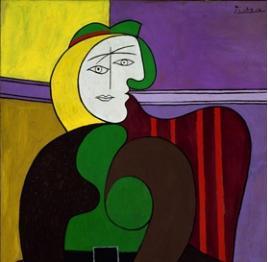 Picasso and Chicago
Despite having never been lucky enough to set foot in our fair city, Picasso enjoyed a deceptively strong relationship with Chicago. The Art Institute of Chicago was the first American museum to begin collecting the young Spaniard's pieces in 1913, and has since amassed an impressive array of his paintings, sculptures and other works. In honor of the 100 years that have passed since Picasso's work first arrived, the Art Institute of Chicago presents "Picasso and Chicago," an astounding collection of over 250 pieces of work running through May 12, 2013. The exhibit is free with admission. For non-Chicago residents general admission is $23, $17 for students and seniors. Chicago residents pay $18 for regular admission, $12 for students and seniors. Illinois residents pay $20 for regular, $14 for students and seniors. Admission is free for members. The museum is open daily from 10:00 am to 5:00 pm. The museum closes at 8:00 pm on Thursdays, where admission is free to all Illinois residents beginning at 5:00 pm. Watch a segment from Chicago Tonight about the new exhibit.
The Art Institute of Chicago
111 S Michigan Ave
Chicago, IL 60603
(312) 443-3600
The Future and Promise of Interfaith Dialogue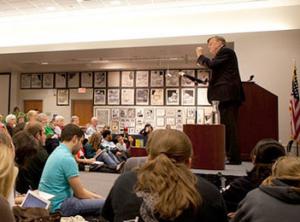 Professor of Islamic studies at George Washington University, Seyyed Hossein Nasr will present "The Future and Promise of Interfaith Dialogue," the annual al-Ghazali Lecture at Elmhurst College this Friday, February 22, 2013 at 7:30 pm. The annual al-Ghazali Lecture is part of the religious lecture series at Elmhurst College. Each year, the series presents interesting and informative talks from several religious traditions. This event is open to the public. Admission is $10. Tickets may be purchased online or at the door. Free for Elmhurst College students, faculty, staff and alumni.
Elmhurst College - Frick Center, Founders Lounge
190 Prospect Avenue
Elmhurst, IL 60126
630-279-4100
Chicago Blackhawks vs. San Jose Sharks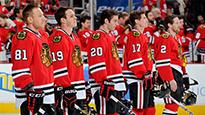 Whether it's at the Madhouse on Madison, at a local bar or in your humble abode, watch the Blackhawks chase history this Friday evening as they try to become the first team in the history of the league – yes, all 96 years of it – to start the season with 17 straight games without a regulation loss. The last three teams to start the season with 13 or more consecutive games without a regulation loss all went on the win the Stanley Cup. No pressure. While you can, enjoy the elite play of Kane, Toews, Hossa, Keith, and Sharp as they pursue regular season greatness. The puck drops at 7:30 pm CST and will air on CSN. Their opponent, the San Jose Sharks, is currently in the middle of the playoff race in the Western Conference. Watch a Chicago Tonight interview with Blackhawks CEO John McDonough.
Chicago Critical Mass Bike Ride
Pedal and push your stress away with the monthly Chicago Critical Mass Bike Ride, a casual bike ride organized on the last Friday of every month that offers you the chance to socialize, exercise and, ultimately, relax. Enjoy this leaderless mass of bicycles, parkas and hipster facial hair in the company of fellow all-weather bike riders this Friday at 5:30 pm at Daley Plaza near Dearborn & Washington. Stay warm, stay safe, and stay awesome.
Daley Plaza
50 W Washington St
Chicago, IL 60602