We take another look at DePaul Art Museum's exhibit Climate of Uncertainty. It features the work of 12 artists who address the issue of environmental degradation resulting from human activities.  View a photo gallery of artwork from the exhibit.
Chicago Tonight interviewed Marissa Lee Benedict, an artist whose work, "Algal Biodiesel Processing Station III," is featured at the new installation. Read our Q&A below.
Tell us about your piece currently being featured at the DePaul Art Museum, "Algal Biodiesel Processing Station III."
Basically, the piece is a living laboratory. I'm growing Chlorella algae to hand-process the algae into biodiesel. I've only produced an ounce of biodiesel in a year, but I've been working on the project very slowly. It's not an accurate representation of how much you would yield, but it accurately represents the scale needed to produce biodiesel. How to make the process more efficient is the multi-million dollar question.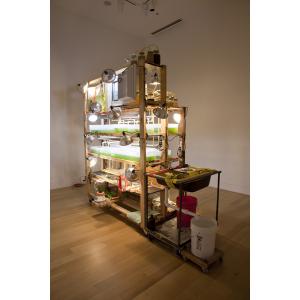 How does your piece qualify as art?
To me, art is a way of entering other fields and thinking about problems in ways that are different to how people from those fields would approach it. It's about asking the dumb questions, which I'm not afraid to do. Doing so gets you to the heart of the question.
What was the "dumb question" with this piece?
The dumb question here was, how does this process work? The concept of pure energy is so abstract, and somehow you're getting it out of this plant. How does this happen? It's exciting and frightening to try to delve into these types of subjects. Both emotions really drew me into this subject.
Did your work answer that question?
I very much think I understand the process better now. My next step is to pass that knowledge on to others by creating a catalog capable of communicating these things to other people. It's taken me years to get my head around this process. I ask myself, how does this fit in a larger context? How does it relate to the current environment?
Climate of Uncertainty seems like a stark, somewhat dark exhibit. What do you want people who see the exhibit to feel when they leave?
For me, I want people to think about the ideas presented in the installation. I want them to be challenged and hopefully intrigued by the subject matter. This is a time of uncertainty, and I want the people who see these works to feel that uncertainty. That can be overwhelming, I know. But I want them to ask, what is this about? I want people to see that there are options, and that some of these options are going to fail. I want people to be excited. I sincerely hope they leave with a feeling of curiosity about the future, because that's what inspires me.
Interview has been condensed and edited.
Learn more about DePaul's Art Museum in the following video and view a photo gallery below.