The rules that govern Chicago building construction and urban planning run over 300 pages--and that's before adding all the piecemeal changes to the code, which are required to be filed as separate ordinances. But government data hackers at Open City want to make zoning laws concise, understandable--and even fun.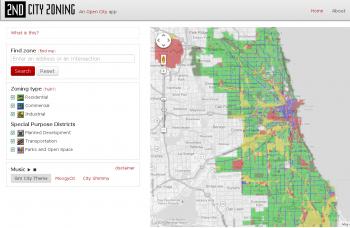 Their latest app, 2nd City Zoning, color codes the entire city based on what property is zoned for: residential, business, manufacturing, etc. Users can filter what type of zoning they see on a map of the city--just parks, for example--or look up individual addresses to see what they're zoned for. The site, launched last week, also includes a breakdown of zoning rules and explanations of what codes like B1-5 mean.
"The goal of the app was to make zoning digestible by humans," says Open City collaborator Juan-Pablo Velez, a data scientist with Datascope Analytics. "Zoning is really the DNA of the built environment, but it's also the single most impenetrable piece of local government."
Velez was in charge of writing the explanations for the site, turning passages like this:
[R]esidential districts are intended to create, maintain and promote a variety of housing opportunities for individual households and to maintain the desired physical character of the city's existing neighborhoods. While the districts primarily accommodate residential use types, nonresidential uses that are compatible with residential neighborhoods are also allowed.
into this:
Houses and apartment buildings only on these parcels! No stores, offices or factories allowed. Schools, churches, police stations and the like are cool, though.
"I had to piece together how these arcane rules add up to these constraints on the look of buildings and the economic makeup of the city, which we see everywhere. Chicago's pattern of commercial corridors with storefronts on the arterial streets, that is produced, literally created, by the zoning code," Velez says. "The industrial districts are still around, in large part, thanks to the zoning code, which has it insulated from lofts and shops moving in there."
The app aims to be a resource for people involved in building in the city, from real estate developers to urban planners. But Velez also hopes Chicagoans will come to the site to learn more about how these rules influence the day-to-day feel of a neighborhood.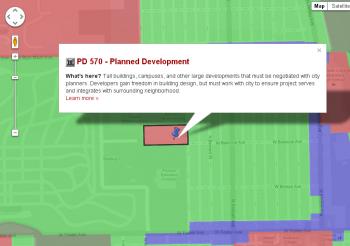 "You can see your own neighborhood, and you'll see why that drive-through bank was allowed to be built, despite the fact that it's surrounded by walkable storefronts," he says. "It's because they carved out a tiny zoning district just for that building, which happens all the time."
Open City's past projects include sites making business indicators, CPS selective school policies, and dealings of Chicago lobbyists readily accessible and transparent. Those topics could make readers' eyes glaze over, but there are some simple ideals Open City tries to follow to engage users.
"We ask ourselves: What would make me want to keep reading?" he says. "Making it pretty helps. Using a human voice helps. Explaining policy like you were doing it over a beer with a sense of humor helps."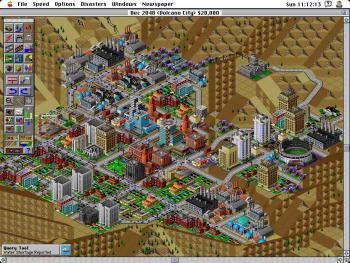 That's all present in 2nd City Zoning, but there's also some funky, synth-fueled jazz serving as a soundtrack for the site. That music is from the mid-'90s computer game SimCity 2000, where players would manage their own city from scratch, in part by zoning one block for an amusement park or another for an industrial park. The color scheme for 2nd City Zoning's map also borrows from the game, along with some icons and sound effects.
"Look, zoning is fascinating and impossibly dry. So we also have to make it fun. And SimCity is the only cultural touchstone people have for zoning," Velez says. "We're reliving our nerdy, urban planning childhoods."
Open City came out with its first apps about a year ago, and now hosts weekly hack nights for coders to collaborate on civic-minded projects. Many projects are sparked by Open City members "scratching our own itch," Velez says, but city officials will sometimes share problems they're working on that will inspire an app.
The Department of Public Health came to a session late last year, looking for a better way to share where flu shots were available across the city. Open City's Tom Kompare built a site that shows users where the nearest flu clinic is, lets them make an appointment and gives them transit directions. The city put the map on their website "in front of eyeballs," Velez says.
Since then, civic hackers in Boston redeployed the app when their mayor declared a flu emergency in the city. The app was also redeployed in Philadelphia.
"It's spreading virally, like the flu," Velez says.