We learn winter gardening tips, and why now is the best time to look for signs of the emerald ash borer, from Chicago Botanic Garden's Eliza Fournier. View a photo gallery and check out her tips below.
Gardening New Year's Resolutions:
- Start a garden journal. If you need outside ideas, utilize social media like Facebook and Twitter to post your garden ideas, pictures, and successes and failures.
- Plan your veggie garden NOW and order seeds from sustainable sources rather than big box stores. Consider starting your own seedlings!
- Volunteer for a local school, community garden, Botanic Garden or Arboretum! There are many in Chicago to choose from, and some are closer than you think.
- Clean and sharpen your tools NOW.
For a list of community gardens in Chicago, click here.
- Know your plant! Do not prune spring flowering plants right now as you might prune off your spring show! Plants like lilacs, forsythia, etc.
- Plan for pruning: What's your goal?
 Reshape – selective pruning throughout the plant.
 Remove dead or diseased wood.
 Rejuvenate – many plants can be cut back VERY significantly to encourage new blooming or a more bushy shape. 
- Find the right tool for the job.
 Use a handsaw if the plant is the same diameter as your wrist or larger.
 Use a lopper if it's as wide as two or three of your fingers.
 Use a hand pruner if it's one or two fingers wide.
Indoor Plant Care:
- General care
Keep plants away from cold drafts, radiators, and all blowing air in general
Humidity

group plants together
set plants in gravel trays of water
Misting is not really effective

Less watering and less fertilizing
Washing leaves with a soft towel and water aids respiration
- Orchid care
Easy, gorgeous plants!
Do not over-water, over-care, or over-sunlight!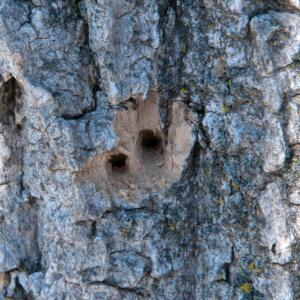 The Emerald Ash Borer: the Bane of North American Ash Trees
- The Emerald Ash Borer is an Asian beetle found in some states and parts of Canada. It infests all types North American ash trees. If a tree becomes infested, it will die. 
- Signs of EAB infection
Identify your trees or call Plant Information Services at the Botanic Garden.
Look for woodpecker damage on your ash, as that implies the tree is infested with EAB larvae that the woodpeckers love to eat.
Look for Tree Canopy Dieback, as it implies that the tunnels the EAB larvae carve into the trunk of the tree are stopping the tree from absorbing nutrients properly.
-Treatment
Removal. Unfortunately, there is no pesticide that can treat an already infected ash tree.  Once the tree becomes infected with EAB, it is lost.
There are some insecticides that can prevent the tree from becoming infected, but it must be treated before being exposed to EAB.
- Slowing the spread
DO NOT move firewood, woodchips, branches or any other ash wood any significant distance. It is also illegal to bring ash wood to any properties managed by the Illinois Department of Natural Resources.