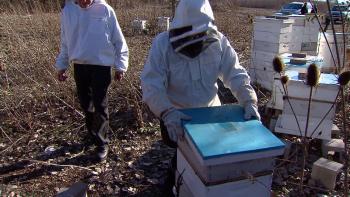 What do honey bees, O'Hare Airport and second chances have in common? They're all playing an important part in a social enterprise that aims to promote locally produced, honey-based products right here in Chicago.
Dressed in safety gear that looks like something out of a space odyssey, apiarists are ready to encounter much more familiar creatures -- honey bees.
It's winter in Chicago, and a healthy dose of honey-based syrup is crucial to ensuring these bees survive the harsh weather.
John Hansen is the head beekeeper with 36 years of experience. Today, he is teaching others how to care for this hive of honey bees.
"So, I'm gonna let you guys do the next one. Bring a couple of jars of syrup," he said. "As they eat the honey that they've stored in the summertime and metabolize it, they're able to generate enough heat to actually keep the queen at about 90 degrees in the center of the cluster."
What's interesting is where these hives are located. It's at the far east edge of O'Hare Airport. And it's the only apiary, or bee yard, in the country to call an airport home.
Amy Malick is the Deputy Commissioner of Sustainability for the Chicago Department of Aviation.
"This is one of the many initiatives that we have started to help improve what we call the triple bottom line, which means people, planet and profit," said Malick. "This opportunity has provided workforce development training and sustainability opportunities, not only for people but also for honey bees."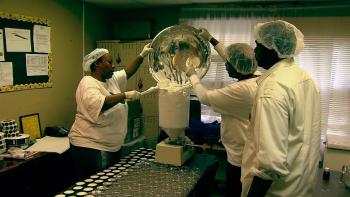 The O'Hare Airport apiary is one of four in total that are maintained by a workforce development program based out of the North Lawndale community on the city's west side. This is the epicenter of Sweet Beginnings, the brainchild of Brenda Palms-Barber. She started the all-natural line of raw honey and honey-based body care products some eight years ago.
"We use our honey to sell straight out to local vendors like Whole Foods and Peapod, but we also use our honey to infuse natural skin care products that we have," she said. "And these skin care products are lip balm, and body creams and shower gels; really high-quality, silky smooth, wonderfully moisturizing, natural, made here in Chicago."
The honey is extracted once or twice a year from the all-natural urban apiaries, including the O'Hare location, and another one in the heart of the North Lawndale community.
The Sweet Beginnings product line can be found in local retail stores, and is prominently on display at two outlets inside O'Hare Airport: Hudson's and HMSHost Grab and Go.
But the mission of Sweet Beginnings is not just to promote locally produced, natural honey-based products, it is to offer up a second chance to people with criminal backgrounds; people who might otherwise have a tough time starting over.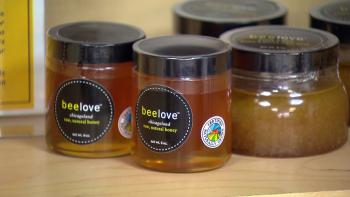 "It is about people behind the product, and that these are individuals who really have served their time and people who want to move on and move past their background, so that they can contribute and honestly be ordinary citizens; not having to live with the stigma that oftentimes incarceration brings," said Palms-Barber.
Ex-offender Kelvin Greenwood spent eight years in prison after being convicted of attempted murder. He started working at Sweet Beginnings four years ago.
"I mean, this program, it meant a lot to me because they opened their doors to me and then they opened their arms," he said. "They saw something in me that I might not have saw in myself. And they just gave me an opportunity to grow, so it means a lot.
Today, Greenwood oversees other ex-offenders who are going through the Sweet Beginnings workforce development program. Since 2007, more than 300 men and women have been hired to work through the Sweet Beginnings program.
"What's probably more important is not just the number of people that we've hired, but the number of people who have also remained out of the system," said Palms-Barber. "Less than 4 percent of the men and women that we've hired have actually returned to state prisons."
So, with the support of an international airport, the efforts of ex-offenders and a few thousand honey bees, it definitely appears to be the beginning of something sweet.