A new curator digs deep into the Museum of Contemporary Art's collection and finds a study in black-and-white. We take a look inside on Chicago Tonight at 7:00 pm.
The almost year-long vacancy at the MCA left by curator Dominic Molon, was filled by the trendy shoes of Naomi Beckwith. The 36-year-old is the innovator behind Color Bind: The MCA Collection in Black and White. The Chicago native previously worked for the Studio Museum in Harlem, and is back in Chicago making waves as a creative addition to the MCA -- and as a fashionista. Chicago Tonight spoke with the MCA's chief curator, Michael Darling, about his selection of Beckwith.
What was the selection process like in hiring a new curator?
We had another position open at the same time for a senior curator, so I really had the opportunity to think about the composition of our curatorial team. With two important positions open, I really had to think about who are some of the more exciting young curators, nationally and internationally. I was aware of the shows Naomi did at the Studio Museum, and I went out to see her in action and immediately recognized what a good communicator she was, in addition to traditional qualifications, good sense of art history, clever ideas how to present art. Nowadays being really personable and a great communicator who is good with people is a crucial skill. These days we can't afford to have ivory tower academics. Naomi had amazing poise and polish.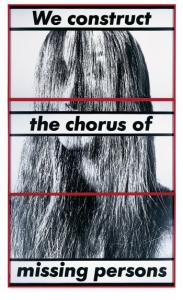 How did Naomi Beckwith catch your eye?
It was the shows she did, in particular 30 Seconds off an Inch, which is a strange title but it took a fresh look at young African-American artists. I really like the thinking behind that; it really caught my attention. I dug in further and really recognized that she had a discerning eye, and I could trust her judgment on things.
Given Beckwith's background at the Studio Museum in Harlem where she produced many exhibitions tackling identity and culture, what do you think she adds to the MCA?
I think since we're in Chicago, this place has really been defined by and focused on ideas of race and identity, with an art collection that is very strong in African-American art. I think that Naomi is of a new generation that's really had to grapple with that from an art standpoint, and she has really fresh ideas about that. That was an area I was looking for guidance on, and she has really good judgment. In Color Bind, it's not  just about the ethnic definition but all kinds of other dimensions to blackness and whiteness—subtle thinking.
Can you tell me a little bit about what we can expect in her next project, Homebodies?
I think one of the things I'm looking forward to is the introduction of new artists into the exhibition; Naomi is following people I've never heard of. The show too will be in the summer, which is a period where we have a lot of out-of-town visitors, a more general audience, and I think there will be accessibility to the idea of the show that will really resonate with people. Once people step inside the exhibit, they'll realize how complicated it is, and the works too. It will be a really dynamic show. That show (Homebodies) plus Color Bind and Jimmy Robert Vis-à-vis have really given me a sense of Naomi's sensibility in art.
Anything else you'd like to add?
Well, an unexpected side benefit of having Naomi with us is her celebrity status in Chicago. It's fun to see her make a mark so soon after arriving in Chicago.
*This interview has been condensed and edited.
Watch an extended interview with the MCA's Naomi Beckwith as she explains her role as a curator.