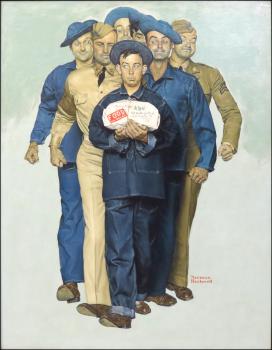 Chicago may become the focus of the art world this weekend as a work by a renowned American painter goes up for sale at auction. A painting by Norman Rockwell could fetch the highest price ever paid for a work of art in Chicago. It could be yours if you have several million dollars to spare. That's the auction house estimate of what the painting could bring. The big ticket price is based as much on the marketplace as on the story behind the painting.
His name was Willie Gillis, and like so many others throughout World War II, he helped boost morale on the homefront. But, unlike many others, Willie was a fictional character, created in 1941 by the master of Americana: Norman Rockwell.
"Willie Gillis was his most famous Saturday Evening Post cover; he did 11 of the Willie Gillis covers," said Sean Susanin from Susanin's Auctions. "Willie was the model that he used, and he painted 11 of these covers during the years of the war."
One October 1941 painting was Willie's debut. It's called "Package from Home." On the eve of America's entry into World War II, Willie is introduced as an enlisted man and the envy of his fellow servicemen, mainly because the package he carries holds food from home.
Like Norman Rockwell did with all of his celebrated covers for the Saturday Evening Post, he created them as large works -- mostly oil on canvas.
As the legendary artist's reputation continues to grow, so does the value of his works. And "Willie Gillis: Package from Home" hits the auction block at Susanin's in Chicago on Saturday with an estimated sale price of $3 million to $5 million.
"What we do is we look at other Rockwells that have sold in the marketplace, which are very few to this caliber, and kind of compare and contrast," Susanin said. "When appraising any kind of art, that's how you come up with comparables and comparable prices. And it just seemed like a logical, but yet in my opinion, conservative price for this work. I'm hoping it brings in an excess of $10 million."
Ten years ago, Rockwell's version of "Rosie the Riveter" sold in New York for nearly $5 million. More recently, the painting titled "Breaking Home Ties" sold in 2006 -- also at a New York auction -- for nearly $15.5 million. It still holds the record for a Rockwell painting.
"Package from Home" comes from a Chicago corporate collection, but the owner wants to remain anonymous. The work is a rare offering.
"Most of the larger, more iconic pictures are held in museums and private collections and just don't enter the marketplace," Susanin said.
As a soldier off at war, Willie Gillis turned out to be the character most frequently painted by Rockwell. Whether it was Willie slacking off on KP duty to read the news from home, charming a snake charmer in a faraway land, sitting in prayer at church, or being the subject of a tussle between two young ladies back home -- both of whom he professes to love.
The model for Willie was one of the artist's neighbors in Massachusetts. His real name was Robert Buck. A couple of years ago, Mr. Buck was interviewed at the Rockwell Museum in Stockbridge, Mass.
"I had no knowledge, no idea of what modeling was all about," said Buck. "Norman would pick out that lady standing over there and he'd say, 'gee, the way she's standing there, that would make a good picture,' and he'd go over and ask her, 'would you model for me?' Many of us didn't know what he was talking about when she modeled for him. I know I didn't."
Mr. Buck served in the Navy during World War II. After he came home, he sat for Norman Rockwell one last time. The final cover featuring Willie was painted in the Spring of 1946, and has him hitting the books in college.
Buck died in the spring of last year, but he'll forever be immortalized as Willie Gillis.
"When this is properly hung and properly lit, there's a three-dimensional kinetic motion where these men are actually charging at you," Susanin said. "And I think that was intentional to have the flat background because, again, properly lit there's motion in them following Willie, and the smells coming from his goodie bag here. And there's movement, and I think it's what makes it so special."
The current record price for a painting sold at auction in Chicago was set in1991 when Van Gogh's "Still Life with Flowers" was sold at Leslie Hindman Auctioneers for nearly $1.5 million.
But the world records are not likely to be broken soon. "The Card Players" by Paul Cezanne was purchased last year in a private sale by the royal family of Qatar for $259 million. The highest price ever paid at auction is held by Van Gogh's "Portrait of Dr. Gachet." It went for $82 million in 1990. That's nearly $148 million in today's dollars.
Whether "Willie Gillis: Package from Home" will attract the big bucks remains to be seen.
"We talk to a lot of museums, and of course they're interested, but with that kind of price tag, they would rather have it donated to them, which my client isn't interested in doing at this point," Susanin said.
Where Willie might carry his "Package from Home" in the future will depend on the whims and the wallet of a winning bidder.
Norman Rockwell is not much represented in Chicago museums. The Art Institute of Chicago has none of his works. The Chicago History Museum has two, both of which have Chicago themes. One is called "The Clock Mender" with the mender tending to Marshall Field's well-known State Street clock. And the other is Rockwell's version of Mrs. O'Leary milking her infamous cow.