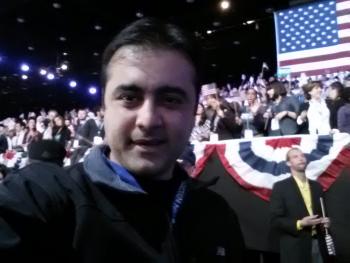 Me and my fellow journalists who had arrived in the U.S. as part of the U.S.-Pakistan professional partnership program for journalists were planning to take the journey back home when I was asked by my channel to stay back in the U.S. and cover the elections. For me, it was a dream come true. I always wanted to cover the elections in the U.S. but it's not like it happens every year. To be there at the right time was a coincidence. I was asked to report from Chicago as I had spent three weeks of my fellowship at WTTW; hence I had a better understanding of the city as compared to my other 10 colleagues who were also coming to cover the elections.
On the day of the elections, my duty started at 6:00 am. I had a freelance cameraman with me for my coverage. As compared to Pakistan, I was surprised when I reached the first polling station. In Pakistan, polling stations are full of polling agents and political banners, and every voter who arrives at the polling station is approached by political agents to convince them to vote for their candidates.
In Chicago, I hardly saw a volunteer doing anything like that. In the polling station, I couldn't see a police/security officer, another surprise! Polling stations in Pakistan are always secured by at least five to 10 policemen for security reasons. I was told by those in charge at the station that people prefer voting before 9:00 am as they have to go to their jobs; another difference. In Pakistan, it's a public holiday on election day.
During the coverage, the city seemed to be calm and quiet. Everyone seems to be going about their business. They were discussing politics and the election, they were waiting for the results as it was thought to be a close contest; but in Pakistan, there is hardly a city in the country which does not experience a fight or clash in one of its polling stations.
After the polling time finished, I went to McCormick Place, as I had been informed that President Obama would be coming there for his election night speech. The security was tight, but still not as good or foolproof as I had expected. I had seen much tighter security measures than that in my own country where you have to go through at least 3-4 security layers to reach a VVIP.
Anyways, I was also disappointed by the arrangements in the media center there, as for almost three to four hours the internet facility didn't work, and I could not reach my channel in Pakistan, so it was almost a blackout for me. Just when it was announced that President Obama had been re-elected, finally the internet started working and I was able to get back in contact with my channel, and started reporting again.
The media was kept in a designated enclosure while the Democratic volunteers were given the space in front of the stage. When Obama arrived for his victory speech, the volunteers who were assigned security responsibilities to keep all the media persons in the enclosure were suddenly nowhere to be seen and had joined the crowd in the front of the stage. Grabbing the opportunity, I also moved out of the media enclosure and started moving toward the front side near the stage (which I personally think is a big, big security flaw). I was able to get to about 40-50 meters away from the stage and I was able to see the President with a much clearer view now. This is the point where I think my stay in the U.S. had finally paid off, as I was now in front of the person who is considered the most powerful man in the world. Obama thanked all his supporters/voters/volunteers for helping him win the election and promised to bring in change, which he had promised four years ago. The crowd kept chanting "four more years."
I can assure you if Obama was in Pakistan, and with the sort of change he had promised his people, and the sort of performance that showed on paper, he would never have been re-elected; as people in my country don't forgive their leaders for not being able to do things which they promise (no majority government has been able to get re-elected in the history of my country.)
In the end, all I can say is that my stay in the U.S. has made me understand the people of this country in a much better way, but my opinion about the U.S. government hardly changed. The people of the U.S. are as powerless as the people of my country, but at least you are able to speak your words, while in my country we are only beginning to learn the language. Good-bye, America!