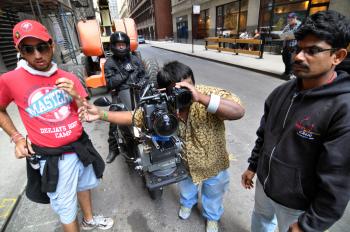 Chicago Tonight has an exclusive look at the biggest international movie to film in Chicago, and an interview with Indian megastar, Aamir Khan.
The movie is Dhoom 3, a Bollywood action movie. While Khan is one of the most popular stars in India, he's best known to Americans from his starring role in Lagaan, which was nominated for the Best Foreign Language Film Oscar in 2002. 
For weeks, Dhoom 3 has been filming stunt scenes downtown: motorcycle chases, jet ski jumps and staged bank robberies. Chicago Tonight has been on set and will report next week on how this multi-million dollar production came to Chicago.
Ash-har Quraishi sat down with Khan to find out what it's been like shooting in Chicago. Watch a preview in the following web-exclusive video: 
Watch Chicago Tonight next week for the full story, interview and more behind-the-scenes photos and videos.