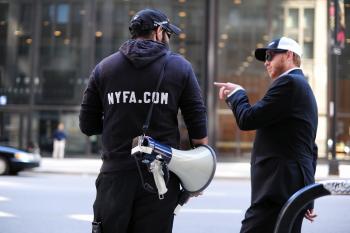 It's an early call on a brisk autumn day and the production crew is readying to shoot a fast-paced chase scene in downtown Chicago. Motorcycles rev up and technicians check to make sure everything on their multi-million dollar camera rig is secure before the director calls, "Action!"
But this is no Hollywood production. In fact, the majority of the crew members have traveled nearly 8,000 miles from Mumbai, India to shoot the film, set here in Chicago. And according to the city, it is the largest international film to ever shoot in Chicago.
The movie is Dhoom 3, the latest in a mega-popular Bollywood franchise, the name given to the Bombay-based, Hindi language film industry. "Dhoom," a Hindi word, roughly translates to "blast," referring to the physics-defying action sequences.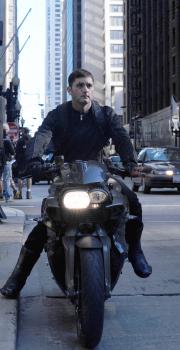 "We just wanted to make a film which was lighthearted, was not taking itself very seriously," said Victor Acharya, screenwriter and director. "It's a cops and robbers story in a very loose sense of the term. But I'd like to think we are trying to push the envelope a little bit."
WATCH OUR EXTENDED INTERVIEW WITH ACHARYA
The filming includes a three-month long marathon production schedule, shooting in and around Chicago. Downtown chases with bikes, jet skis, and helicopters have meant major street closures to accommodate for the intense action sequences.
Those action sequences have led to one of the most expensive Bollywood films, though producers declined to say exactly how large their budget is.
"Compared to Batman [Begins] or Superman [Returns] or those films that have been here, we're the little, tiny counterpart," said Ilana Rossein, the film's line producer. "However, compared to any other films coming out of India, it's arguably one of the largest films ever made."
In many ways, Dhoom 3 hews closely to convention, with a major song sequence filmed on Navy Pier. Songs, and at times highly stylized dance numbers have become the hallmark of Bollywood films. It's a brand of escapist cinema that attracts a global audience of over a billion people.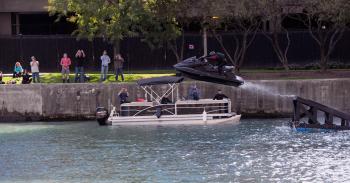 The musicality of Indian films is integral to their mass appeal, said Rochona Majumdar, an associate professor at the University Chicago's media studies department who studies Indian cinema. While it may seem strange to jump from dramatic shoot-outs to musical numbers, Majumdar says Bollywood songs help tell the film's story and do not seem out of place to an Indian audience.
"It's very important," she said. "A lot of people, myself included, often forget the titles of films, but remember a lot of films by the song sequences."
For a Bollywood film, Chicago is an exotic location and the crew has been taking advantage of the city.
"This is Chicago straight-up," said Rich Moskal, director of the Chicago Film Office. "They were not shy about saying, 'Look, I know it may be more convenient to shoot in some other part of the city, but we want every shot, every frame, every angle, to say something about the look and character of the city.'"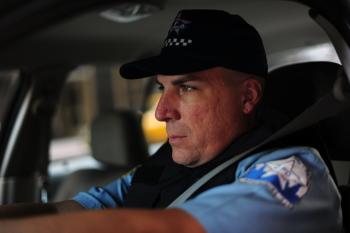 And Dhoom 3's success could lead to more South Asian films coming to Chicago, according to Moskal.
"For Chicago to be showcased in such an elaborate and colorful fashion, with high-octane action and huge stars, to the general populace of Chicago, it might be just another action picture," Moskal said. "But to the world community, it's enormous. It's front-page news."
Adding to the headlines is the film's anti-hero, played by one of India's most prolific and accomplished actors: Aamir Khan. He's starred in a string of high-brow hits, and has recently become active in social causes, a relative rarity among Indian stars, through a TV talk show.
"He's a combo, a very sophisticated combo of George Clooney, Oprah Winfrey -- a male version -- and Tom Cruise," Majumdar said. "He's someone who reinvents himself with every film. He actually brings something like method acting to Indian popular cinema, and knows how to deliver at the box office while at the same time being very cognizant of film as an art form."
Khan is also famous for dramatically transforming his physical appearance from character to character, sometimes rendering himself nearly unrecognizable.
"I think it's great fun to change yourself, to become a different person, even physically," said Khan. "I like to see how far I can take it and how deep I can dive into a character."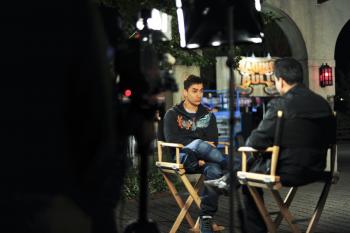 He recently became only the fourth Indian actor ever to be featured on the cover of TIME magazine, and his talk show recently wrapped up its first season with some of the highest ratings in Indian history.
The show, Satyamev Jayate, or "Truth Will Prevail," is hosted by Khan, and explores some of India's most uncomfortable and often ignored social issues, like female infanticide and the caste system.
Over half a billion people watched the season finale, but the show's been controversial and Khan has received death threats.
"The whole point of doing the show was that I wanted to use whatever goodwill I've earned over the years," Khan said. "I believe that with knowledge and information, you can change peoples' attitudes and the way they look at things and the way they react. [So we picked] issues which we believe affect all of us, all Indians."
Here in Chicago, the legions of devoted fans vying to catch a glimpse of the mega-star turned social activist are a testament to his global popularity. Crowds have followed Khan around the city; some have driven cross-country to meet him.
"I knew that there are Indians and Pakistanis living here, but I didn't know they would come out in such large numbers to see us shoot every day," Khan said.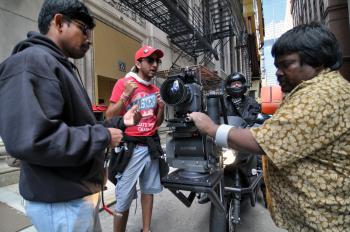 The scores of fans out on the prowl to catch glimpse of Khan makes it difficult for director Acharya to keep the film under wraps.
"I don't think I've been able to keep any secrets," he said. "I think everything's up on YouTube. I think from the first day while we were down at [Lower Wacker Drive] there were photographs out. Some of it, you can't fight."
Acharya says he created the Dhoom series because he was dissatisfied with Bollywood films that were too self-serious and not enough uncomplicated fun. But with Dhoom 3, he is hoping it will attract a wider audience.
"We're not saying, 'Oh, it will be good enough for a Hindi film,'" he said. "We know that it's an Indian film, but we want the world to see it."