The highest absentee rate in the Chicago City Council belongs to Ald. Sandi Jackson of the 7th Ward; she's missed five full City Council meetings so far this term. That includes one meeting this summer she clocked in for as "present," but then left before voting after reporters had hounded her about her husband.
The alderman with the next highest rate is the 29th Ward's Deborah Graham; she has missed three meetings. There are five aldermen who have missed two meetings, a handful have missed one. This is all according to records obtained from the City Clerk's office.
The Chicago City Council met today -- and throughout this term, has met on average a little more than once a month to vote on big things like the budget, the infrastructure trust, and speed cameras. It is the core function of City Council members - voting to represent their 50,000 or so ward members.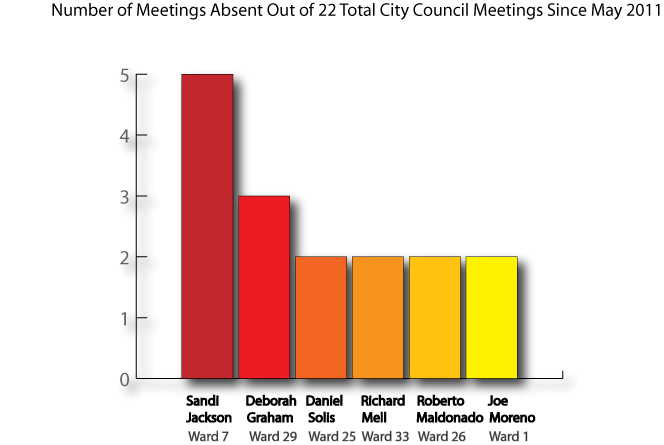 To be fair, Ald. Jackson has been dealing with her husband Congressman Jesse Jackson Jr.'s very public bipolar battle.
"I think it's fair to say we've had a fairly difficult summer," she said. "It's also fair to say that we don't control when City Council is scheduled, so we're sort of at the mercy of the schedule."
Three of Ald. Jackson's five absentees were before news of her husband's illness broke. She has a residence in Washington, and it's unclear how much time she spends there.
"Sandi Jackson's constituents can cut her some slack if they'd like because she's undergoing a very serious family crisis," said the Better Government Association's Andy Shaw. "But we all have personal problems and elected officials have a responsibility to represent their constituents. And one of the key ways you do that is by showing up and voting almost all the time. More than 20 percent is excessive absenteeism, and her constituents should be concerned if they expect her to be representing them on key votes."
Jackson has missed votes on issues like an ordinance to ticket offenders for possession of small amounts of marijuana, as well as the new mobile food truck ordinance, among others. She also sits on seven council committees like Public Safety, Rules and Ethics, and Transportation.
According to records that have been filed with the City Clerk's Office, those committees held 63 committee meetings. Ald. Jackson attended five of them. In other words, she has missed more than 90 percent.
The alderman says constituents pay more attention to ward services like filling potholes and repairing lights than what happens in committee meetings.
"The things that we do on a day to day basis tend to weigh more heavily than what we may do once a week down here at City Hall," Jackson said.
She's not alone. The rate of absenteeism for the dozens of committee meetings that take place most weeks is very high. For example, 47th ward Alderman Ameya Pawar, who has a perfect record in City Council attendance, has missed around 80 percent of meetings for committees he's assigned to. Pawar too says constituent services take up the bulk of his time, and ward work often precludes his ability to attend council committee meetings.
"Committee attendance isn't an indication of how well an alderman is performing," he said.
The BGA's Andy Shaw isn't buying that argument.
"The committee meetings are the bread and butter, the nuts and bolts of the job. You have to attend them because that's where all the data is presented and argued and debated," said Shaw. "When you miss what sounds like 80 or 90 percent of the committee meetings, you're missing discussions on all of the key issues that your constituents send you there to represent them on, and that is simply unacceptable."
The city clerk's office sent us numerous monthly attendance reports for committee meetings. You can view a sampling of them in the PDFs below and more in the Committee Reports folder.
Do you think it's a problem when aldermen miss multiple City Council meetings? Post your comments below or sound off on our discussion board!