Need some ideas for what to do this weekend? Chicago Tonight knows what is going on!

American Sabor
The Smithsonian Institution created a traveling exhibition that celebrates the influence of Latin recording artists on American popular music. The show just arrived on Chicago's Northwest side, where it is being hosted by the Puerto Rican Arts Alliance. The American Sabor Exhibit will on view August 4 - October 7 at the new Puerto Rican Arts Alliance/U.S. Bank Exhibit Hall. Plus come listen to a performance by the Chicago Cuatro Orchestra at the exhibit this Saturday. The gallery is open Tuesday - Friday from 11:00 am – 5:00 pm, and Saturday and Sunday from 9:30 am – 1:00 pm. Admission is free and free parking is available at U.S. Bank. Take a look inside the gallery and read about three local Puerto Rican bands that are adding their own "sabor" to the Latin music scene.
2958 N. Milwaukee Ave.
Chicago, IL 60618
Bollywood Bash
The evening fundraiser presented by MarketPlace India supports women artisans and their communities. In addition to dance lessons from Gopi Engineer of the Meher Dance Company, there will be henna art, Indian food and a silent auction. Proceeds will go to MarketPlace: Handwork of India, which works with women artisans in inner-city Mumbai. They also have a youth program that provides resources including a summer camp for the children of the artisans. The event is held at the MaZi Dance Fitness studios tonight from 6:30 pm – 9:30 pm. Tickets are $15 in advance and $20 at the door, which includes activities, food and one drink.
MaZi Dance Fitness Centre
2001 W. North Ave.
Chicago, IL 60622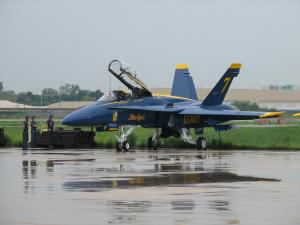 Chicago Air and Water Show
Come out to North Avenue Beach this weekend for Chicago's annual Air and Water show. Classic aircrafts such as WWII's P-51 Mustang, F-16s, bi-planes and the remote-controlled Firebird will be seen flying along Chicago's skyline. Plus don't miss spectacular performances by the Navy Blue Angels, flying at speeds up to 700 mph, the U.S. Army's Parachute Team, and Daredevil pilots performing aerial stunts. If you want to head out on the water, Odyssey, Spirit of Chicago and Mystic Blue are all offering specialty cruises that include buffets and entertainment. The Air and Water show takes place Saturday and Sunday from 10:00 am – 3:00 pm both days. Admission is FREE and specialty cruises start at $40. Check out Geoffrey Baer's air show preview with photo gallery.
North Avenue Beach
Lakefront at North Ave.
Chicago, IL 60614
Glenwood Avenue Arts Fest
This weekend-long arts festival in Rogers Park features 100+ artists of all disciplines, including painting, photography, drawing, graphics, mixed media, printmaking, sculpture, watercolor, wearable art, ceramics, glass, weaving, wood, metal, leather, and more! See open studios, listen to live music on three outdoor stages and enjoy food and beverages. There will be a kickoff party, the Friday Night Cobblestone Jam, on Friday night from 6:00 pm - 10:00 pm with the artists' market on Saturday and Sunday afternoons from 12:00 pm – 9:00 pm. Admission is FREE.
Glenwood Ave. & Morse Ave.
Chicago, IL 60626

Chicago Korean Festival
Ever seen traditional folk Korean wrestling? Well now is your chance at the 17th Chicago Korean Festival. Come celebrate with the Korean community in Chicago at Albany Park this Saturday. The festival will honor the veterans who served during the Korean War, and celebrate the Korean culture through song, dance, martial arts and food. The family-friendly event also includes a 5K Run/Walk, breakdancing battle and singing contest. The festival is FREE and takes place Saturday and Sunday from 12:00 pm – 10:30 pm.
3200 W. Bryn Mawr Ave.
Chicago, IL 60659
Free/ 5krun/walk $25