The Smithsonian Institution created a traveling exhibition that celebrates the influence of Latin recording artists on American popular music. The show just arrived on Chicago's Northwest side, where it is being hosted by the Puerto Rican Arts Alliance. Chicago Tonight spoke with three local Puerto Rican bands that are adding their own "sabor" to the Latin music scene.

Chicago Cuatro Orchestra
The Chicago Cuatro Orchestra has been around since 1996, preserving Puerto Rican culture by educating and teaching others on Puerto Rico's national instrument -- the Cuatro. The orchestra has performed at a variety of venues across Chicago and is directed by brothers, David and Orlando Rivera. Orlando moved to Chicago from Puerto Rico in 1989 and was an avid musician, playing at various nightclubs. Then a car accident in 1995 left Orlando with broken hands. He had decided his musical career was over, when one day his brother put the Cuatro in his hands.
"He told me in three months we're going to start teaching the community to play our national instrument," said Orlando.
And that's exactly what they did.
"At the time there were only three or four Cuatristas, teaching one by one but only taking talented people," said Orlando.
He and his brother wanted to expand the teaching of the Cuatro to much larger groups. Their program skyrocketed, and after creating the orchestra, they also started organizing the Cuatro festival, which will take place November 10 this year. This not-for-profit organization teaches students of all ages how to play the Cuatro, also exposing them to different musical opportunities with recording and studio production.
"Kids are learning not only about Puerto Rican culture and Cuatro, but they're learning about different cultures and different music. The Cuatro is not only about Puerto Rican music but world music," said Orlando.

The Cuatro has been influenced by the vihuela- a Spanish guitar that came to the new world, and the guitarillo, a smaller variation of the guitar. The original instruments made were small and had only two strings. The shape and size evolved, with four strings being used, hence creating the Cuatro. The instrument has continued to undergo changes, now typically seen with 8 or 10 strings.
Once the students have a strong base on traditional music, Orlando and David like to experiment by incorporating music from other genres like rock, jazz and classical, to their Cuatro repertoires to create new sounds.
The Cuatro healed Orlando's hands, and he is proud to pass on his knowledge to others.
"I want my kids to have that opportunity to preserve the instrument and culture, and give people the opportunity to play the instrument in an orchestra setup," he said.
The group is fundraising now to go to Washington D.C. and they'd like to go to Puerto Rico to join their orchestra there.
"To me, that [playing with the orchestra in Puerto Rico] is like playing with the Chicago Symphony," Orlando said.
The Chicago Cuatro Orchestra is performing August 18 as part of the American Sabor Exhibit.
Broke Poets
This group, led by Moises Pacheco, fuses sounds from every genre, from reggae to swing to classical to bolero, with modern hip-hop to create something brand new and relevant.
"Our music is kind of a completely different style and sound; we love experimenting," said Moises Pacheco.
The group has been performing in Chicago for over 10 years now, with various group member dynamics over the years. Pacheco and the other group members also played in a group called St. Bagu that represented Chicago in the World Expo 2010 in Shanghai, China.
The blending of different types of music for Pacheco is a reflection of his Puerto Rican heritage.
"We soak up all the sounds around us. It reminds me of how Puerto Rican people came together. Our culture is a potpourri of many different cultures put together," he said.
The band fuses different sounds and melodies, hoping that there are many aspects for people to relate to.
"To me, it's [the music] to help educate and unite people. People hear different rhythms that are very danceable and have a lot of energy," said Pacheco.
DJ Lugo Rosado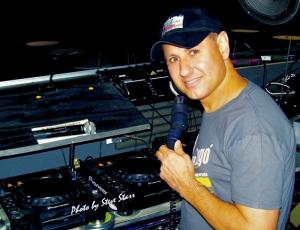 DJ Lugo Rosado is considered one of the early Latino DJ pioneers of Chicago House music. This native Puerto Rican, born and raised in Humboldt Park, first became interested in becoming a DJ when he was in junior high school.
"When I was in 7th or 8th grade, we used to have these party fundraisers and the DJ was a lady. Mind you, she was in a wheelchair, and I was so young and amazed. I said 'I want to do this,'" said DJ Lugo.
After that encounter, he looked more into being a DJ. But growing up in a single-parent household, he didn't have a lot of money for equipment.
"I took apart my mom's console stereo, with a PSR turntable, where you'd put 45's in and they'd drop automatically," he said.
He and another friend would bring these turntables to parties and spin music.
With his mother's support, DJ Lugo started acquiring more records and began hanging out with other DJs as a roadie, and as DJ Lugo put it, "It just grew from there."
In the 80s, he moved out to New York and would play a lot of events at the Rainbow Roller Rink. He eventually moved back to Chicago, brining with him the musical influences he encountered on the New York scene. A friend of DJ Lugo's owned a record store in the city and eventually ended up creating a production group backing up House Music diva Liz Torres, which DJ Lugo was a part of. It was here that DJ Lugo's talents really started to get noticed.
"It's been an amazing ride," he said.
He likes to choose a little bit of everything when creating his music. He started with the traditional salsa records his mom used to play Saturday mornings when she would clean the house, and fused them with house music of Chicago, freestyle of New York, and disco and R&B.
Throughout his years of experience, DJ Lugo has witnessed the evolution of the DJ scene from a Puerto Rican perspective, where more and more DJs are becoming involved in the Latin scene.
"In more of the dance music now, there are Spanish overtones, and some have bilingual lyrics, like Pitbull. Music is always changing and evolving into something bigger and better," he said.
On September 15, DJ Lugo Rosado is giving a talk at the American Sabor Exhibit entitled, "The Evolution of DJing in Chicago from a Latino DJ Perspective."
"I'm really excited and honored to be a part of the exhibit. DJing allows you to expand and grow into other opportunities," he said.
DJ Lugo also works as the musical director of the Latino Fashion Week coming to Chicago this October.
Click here to listen to DJ Lugo Rosado live in NYC and listen to tracks from Chicago Cuatro Orchestra and Broke Poets below.
The American Sabor Exhibit will on view August 4 - October 7 at the new Puerto Rican Arts Alliance/U.S. Bank Exhibit Hall at 2958 N. Milwaukee Ave in Chicago.The gallery is open Tuesday - Friday from 11:00 am – 5:00 pm, and Saturday and Sunday from 9:30 am – 1:00 pm. Admission is free and free parking is available at U.S. Bank. Tune in to Chicago Tonight at 7:00pm, where we take you behind the scenes of the exhibit.
Audio Attachments:
The Chicago Cuatro Orchestra; Zorzal
Broke Poets; Boom featuring vocals by Tony Pozdol and Freddy Bustamante