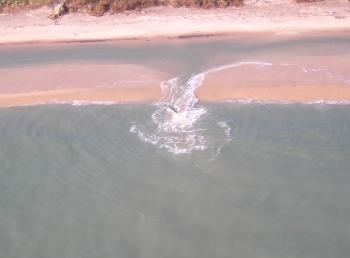 There have been a dozen drownings this year from rip currents in the Great Lakes. We learn more about the deadly currents on Chicago Tonight at 7:00 pm. 
Three of those drownings came just this weekend, including the death of a Chicago doctor who rescued two 12-year-old boys on a Michigan beach but was caught in a rip current himself. 
National Weather Service Warning Coordination Meteorologist Jim Allsopp says rip currents form when strong winds create large waves coming towards the shore. 
"All that water piling up onto the shore, it has to make its way back out to the lake," Allsopp says.
That rush of water returning to the lake creates a small channel of strong current which can flow at up to four miles per hour -- a rip current.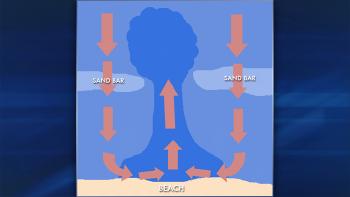 Sandbars, or piles of sand that run parallel to the shore, can cause rip currents to sneak up on swimmers, Allsopp says.
"Sometimes the rip currents dig a channel in the sandbar, and you think you're in shallow water, and all of a sudden you're caught in a current," he says.
If a swimmer is caught in a rip current, the best thing to do is to fight your instincts.
"Your natural instinct is to swim as hard as you can back towards shore," says Allsopp. "Even an Olympic swimmer would tire pretty quickly in that situation. You have to move parallel to the shore, and once you are clear head back towards shore. Tread water and let the current take you out there."
Most Lake Michigan rip current rescues and drownings occur in Indiana and the lower portion of Michigan because their beaches are shallow and sandy.
"In Chicago beaches, most have break walls that protect the beaches a little bit more," says Allsopp. "The onshore winds hit the break wall and it slows down the current a bit."
Summer winds also tend to come from the north or northwest, Allsopp says, which are more likely to cause strong waves on Indiana and Michigan beaches.