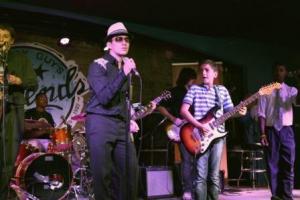 On Chicago Tonight at 7:00 pm, Jay Shefsky goes behind the scenes of a summer camp for kids dedicated to the Blues.
The moment Nancy Rice heard about Fernando Jones' Blues Camp, she knew it would be perfect for her grandsons, Peyton and Carlton McDowell. The Blues might not be the preferred music for most 7- and 10-year olds, but Nancy began teaching her grandchildren about the Blues as soon as they picked up the guitar. The only problem? Nancy didn't realize the camp was for 6th- to 12th- graders, not 6- to 12-year olds.
"My youngest grandson said, 'Grandma, I think if you told that man about me and he just heard me play, he'd let me in,'" recalled Nancy. "I wrote Fernando a little note about how I grew up with the Blues—I was around when the Blues was red hot too, and my grandsons really wanted to attend, so would he give them a chance to audition?"
Jones now credits Peyton for causing him to open the camp up to more ages, but it's Jones' willingness to do so that truly characterizes the program. He began Blues Camp in the summer of 2010 with the intention of creating a place where kids from all different backgrounds and ranges of abilities could learn about the Blues. Since then, camps have opened up in California, Texas and Memphis, in addition to the Chicago location.
Not that the kids stay put. Jones leads campers around the city as he exposes them to the roots of the Blues. The kids perform three gigs, including at Reggies Rock Club and Buddy Guy's Legends.
"Some of the things that you learn there you can't learn anywhere else, like how to play with the other kids," said camper August Domanchuk. "You can't learn how to do that by yourself. When you play with someone, they almost have a whole different personality than when you talk with them…they're speaking a different language."
August, now 12, has attended Camp Blues for two years. He had played guitar before, but it wasn't until the camp that he learned about the Blues.
"Nowadays, you don't really hear that much Blues on the radio, just hip-hop, rap and stuff," said August. "[The Blues are] something that you really can connect to as a musician. A lot of people dislike it because they think it's sad…they've never really connected to it."
In the following video, August plays at Buddy Guy's Legend.
August's experience at the camp taught not only him about the Blues, but also his parents. Although his mother, Michelle, plays the piano and clarinet, she wasn't really exposed to the Blues until she saw a flier for the camp and August began practicing for his audition.
"My husband and I, we just got such a kick out of the whole week," said Michelle. "It was just a vacation for us to be downtown in Chicago, to watch and hear these kids play and meet other adults who have a love of music. You get to know people very well."
Blues Camp is more of a community than a week-long program, an opportunity to mesh a variety of people together through a shared passion for music. Perhaps that's why so many campers from the first year came back for the second, or why Nancy Rice's grandsons attended two Blues Camps this year—one in California and one in Chicago. And why after their first session, about 14 Californian campers followed them back to Chicago to keep jamming.
It costs $750 to $1,000 per week to train each camper, but Jones insists on keeping the camp free. Sponsors such as Microsemi, The Mary Barnes Donnelley Foundation, Columbia College Chicago and the Blues Kids Foundation have allowed him to do so.
This decision has made the camp more diverse and the community around it stronger, as parents and kids work together to raise money for the program. According to Michelle, who has volunteered selling t-shirts and other products for the camp, one girl rode her bicycle across the state to help raise money.
"That's a wonderful thing, that people really value the camp," she said.
Carlton and Peyton McDowell play with the intermediate band.
After their first day at Blues Camp last year, Nancy said Carlton and Peyton told her, "We love it, we love it Grandma, we just love it!"
That enthusiasm hasn't waned with time. "When it's time to go home, they don't want to—they ask to stay and play in the jam sessions."
On a typical day, the campers have a lesson in the morning. Jones then outlines the day's activities and tells them who the special guest will be. The kids practice in ensemble groups and listen to Jones lecture on the history of the Blues. If there's time, they have one more jam session at the day's end.
Fernando Jones was born on the South Side of Chicago, a self-taught musician who began performing, playing guitar and writing songs at age 4.
Since 2005, he's been a professor at Columbia College Chicago. He's written a book, I Was There When The Blues Was Red Hot, and in 2008 was a Keeping the Blues Alive Recipient. His mentor, Chicago Bluesman Willie Dixon, asked him to "keep the Blues going," and Jones has lived up to that request through his music, his classes and his camp.
"The first camp, [August] came home saying it was the best week of his life," recalled Michelle. "It's just a great experience to be able to play with other kids his age from all different backgrounds. To be able to create music together without having rehearsed…it's just a big jam session."
- Article written by Jessen O'Brien
Blues Camp 2012 Final Performances: Free Admission
Friday, July 20: House of Blues, 329 N. Dearborn, Chicago: 12:30 pm - 4:00 pm; Columbia College Music Center, 1014 S. Michigan, Chicago: 5:30 pm - 9:00 pm
View the slideshow below for more photos from Blues Camp.