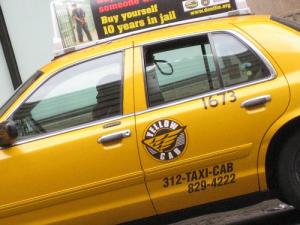 Taxi drivers are calling Monday morning's strike a runaway success.
"Every day, there's up to 30 cabs at this stand. Today, there's almost none," said cab driver Fin Ebelechukwu.
Organizers from a group called the United TaxiDrivers Community Council say there were few cabs on the road between the hours of 6:00 am and 11:00 am this morning. But, to the naked eye, it seemed customers had little trouble finding cabs on a less than busy day in the Loop.
"You might see a few drivers trying to make money today; we call them scabs," said Ebelechukwu. "But the battle continues. The city must listen to the cab drivers."
At issue? Your cab fare.
"We have not had a fare increase in seven years. All of our expenses are going up, and now with the new lease rate, the cab companies are going to dip into our pockets another 20 to 30 percent," said cab driver and UTCC member, Peter Enger.
But not all drivers agree a strike is the way to get the city's attention. 
"We need to have a serious dialogue with the mayor and other people, and talk to them directly instead of doing the strike," said cab driver Syed Imtiaz. "A strike is not good."
Officials from the city say a new ordinance that went into effect July 1 helps protect cab drivers by establishing uniform standards whereby a driver can lease a cab, a $50 fee for a passenger that vomits in a cab, and a permanent $1 fuel surcharge.
"This is something that, no matter what gas prices are, they'll retain," said Rosemary Krimbel, commissioner of the Chicago Department of Business Affairs and Consumer Protection. "And right now gas prices have been going down for the last six months." 

But Ald. Joe Moreno (1st) believes the new ordinance could end up costing taxi drivers more, and has called for a hearing in City Council to discuss the matter.
"Just to have a fair price, that's all we're asking. Again, I'm not saying I support a fare increase today. I'm open, but we need to have a full and transparent hearing on this," said Moreno.
The mayor's office has promised a hearing on the subject sometime this summer, although as of now, no date has been set. Drivers from the UTCC say they plan to strike every Monday until a fare increase is passed.
The head of the United TaxiDrivers Community Council was arrested this morning on one count of criminal trespassing while demonstrating at O'Hare airport. He was released on bond later this afternoon. The mayor has said he will not talk about a fare increase until the new ordinance has time to take effect.