The video cannot be displayed.
Do you feel safe taking a Chicago cab? Well, the wheels are in motion on a new proposal that would crack down on unsafe drivers and modernize the city's fleet of nearly 7,000 cabs. It has the city, cab company owners, and drivers at odds.
In his spare time, Dmitry Samarov is a blogger, a published author, and a painter.  That's when he's not spending all day, every day driving a cab.
"I work 12-14 hours per day, said Samarov. "Every day."
Samarov has been a cab driver since the mid-1990s. He leases his cab from the Yellow Cab Company, one of the city's 23 Taxicab Affiliates. On some days, he says it's hard to even recoup the lease fees and the gas.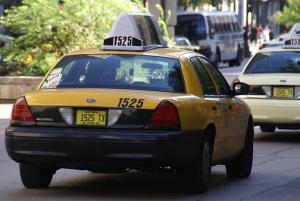 "It's a total crapshoot. You can go for hours without a fare. It happens all the time," said Samarov. "That's why you have to put in the hours."
Samarov is part of an industry in Chicago that is undergoing change. In December, Mayor Rahm Emanuel outlined a proposal that would, among other things: allow cab owners to charge higher rates to drivers to lease fuel-efficient vehicles.
Business Affairs and Consumer Protection Commissioner Rosemary Krimbel is the chief architect of the ordinance. Her department regulates the taxi industry. She says the higher lease costs would be more than offset by gas savings, and that drivers would see an increase of $25 more a day under the new leasing structure.
Other provisions in the ordinance include: mandating that new cabs can have no more than 75,000 miles on them, instead of the current 150,000; and prohibiting drivers from spending more than 12 consecutive hours behind the wheel.
Yellow Cab driver Yasser Hamdan says that on most days, he needs 12 hours to break even. 
"I have to work at least 17 hours a day to make money, because if I work 12 hours a day, it's not enough to make my lease and gas," Hamdan said.
But Krimbel says the new ordinance would allow more than 12 hours in a 24-hour period. 
"If you're going to drive the morning rush, take a two-hour lunch, you are not going to violate that cap," Krimbel said. "It's not 12 hours in the cab, it's 12 consecutively driving. Pedestrian reports show that after that 12th hour, the accident rates rise dramatically."
The ordinance is partially in response to reports that drivers with multiple traffic violations were still on the road.
Drivers we talked to said that the city already had enough tools to monitor bad drivers.
Krimbel says her office has already made upgrades in that area, including getting monthly updates from the Secretary of State's office and analyzing red light camera data.
"As many data points as we can get, it gets us a picture of what kind of driver is out there," Krimbel said.
Samarov says it's nearly impossible for a cab driver to have a perfectly clean driving record.
"Of course cabbies will get more tickets. If you drive 80 hours a week, 330 days a year, you're gonna get tickets," he said.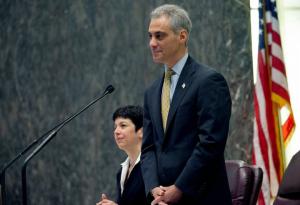 One thing not included in the proposal: a taxi cab fare increase. Something drivers are up in arms about.
"We have the lowest cab rates in the country, by far. It's ridiculous," said Samarov.
A 2008 study by the University of Illinois at Chicago found that the average hourly salary for a cab driver in Chicago was $4.38, with a total yearly net income of just over $12,000.
"The fare increase will come once the industry comes up to standards," Krimbel said. "It's very difficult for me to suggest a fare increase right now when the industry does need to upgrade."
Yellow Cab Chairman Michael Levine, who lives in New York, says that drivers have had four fare increases since 1991. But the maximum lease owners can charge drivers has been frozen during that time.
Krimbel expects the ordinance to improve drivers' wages to above $5 an hour despite the lack of fare increases, and there are other protections for drivers as well.
"With the 23 affiliations, there are 23 different types of leases," Krimbel said. "We now will mandate a uniform lease so they all look the same, so they'll all have categories which will not charge the driver."
She says the ordinance is all about creating a safer experience for the passenger, and letting drivers like Samarov breathe a little easier behind the wheel.
The ordinance is sponsored in City Council by 9th ward Alderman and Chairman of the Committee on Transportation and Infrastructure, Anthony Beale.
For more on the taxi ordinance and to read the complete study on cab driver wages, visit the PDF and links below.
Would you pay a higher taxi fare? Post your comments below or sound off on our discussion board!