The median American family lost nearly 40 percent of its wealth during the recent recession, according to a study by the Federal Reserve, reducing its worth to 1992 levels.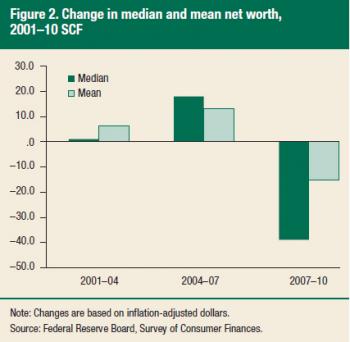 According to this week's Survey of Consumer Finances, that median family had a net worth of $77,300 in 2010, down from $126,400 in 2007. Net worth is the value of assets, such as homes and savings accounts, minus liabilities, such as mortgages and credit card debts. The survey is released every three years. 
Most of that decline was due to falling home prices, which have stabilized somewhat since 2010 but continue to fall. Middle-class families were hit the hardest, with declines in both income and overall net worth. The poorest 20 percent had their net worth decline, but saw their incomes increase about 4 percent; the income of the richest 10 percent fell, but their net wealth rose about 2 percent. 
The survey also details the spending and savings habits of Americans during the recession, including how many families are late paying bills and what kind of debt families have. Rebel Cole, a professor of finance at DePaul University, will break down those figures on Chicago Tonight at 7:00 pm. Cole also spoke with Chicago Tonight earlier in the day to discuss how home values drove the loss of American wealth. Read our Q&A:
According to the survey, nearly three-quarters of loss of wealth comes from falling home prices. How much did Americans invest in their homes?
The vast majority of most people's net worth is the home equity they have. The decline in net worth mirrors almost exactly the decline in housing values.
Let's say a person bought a $500,000 house in 2007, and their equity is $100,000 [i.e. they took out a mortgage of $400,000]. If the housing market drops 20 percent, their house is now worth $400,000, which means they have no net worth in their home. A 20 percent decline in the housing market can more than wipe out your home equity. You may be in a negative equity position.
You mentioned earlier the previous Federal Reserve survey, which detailed 2004-2007. What comparison did you want to make?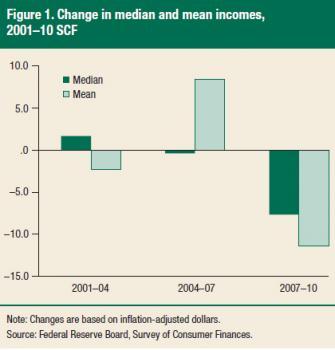 The current survey, 2007 to 2010, is measuring from peak to trough of the recession. From 2004 to 2007, housing prices nearly doubled and net worth increased as well. Let's say you bought that $500,000 house in 2004. It rose to $600,000 in 2007 and then fell again to $500,000 in 2010. You still have your original net worth. If you bought in 2000, you may have still increased your net worth, despite the recession. How the recession hit you really depends on when you purchased your house.
The survey has a lot of detail on the change in net worth, based on age, education level, etc. What were some interesting statistics? 
A sinking ship reduces income equality in a big way. The more educated you were, the worse you got hit. The people that were making the least in 2007 were more likely to rise in the income distribution. They had no capital gains, and depended on wage income, and wage income went up during the period.
The report also details debt habits. Now more debt comes from education than credit cards, compared to 2007?
People used to use home equity as a piggy bank for college for the past two decades. But you can't take $200,000 out of your house to send your kids to college anymore. The only alternative is to take out student loans, and the average student loan debt is $25,000. So it all makes sense.
Interview has been condensed and edited.