Chicago home prices fall for the seventh straight month. Elizabeth Brackett and her panel discuss what needs to happen for the market to stabilize on Chicago Tonight at 7:00 pm. 
According to S&P's Case-Schiller Home Price Indices, Chicago home prices fell 2.5 percent from February to March, their lowest point in 12 years. Prices were 7.1 percent lower than March of last year.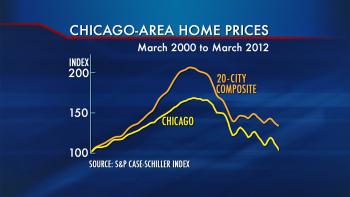 The indices, which tracks 20 cities, saw no change in March, but was down 2.6 percent since last year. The indices was at its lowest point since the housing crisis in 2006.
There were some signals of recovery in the national numbers, however. Twelve of the 20 cities saw prices rise, and rates of change are improving in 17 cities.
While prices still dropped nationwide 2.6 percent, Chairman of the S&P's Index Committee David Blitzer says relative to the depths of the crisis, that's a promising number.
"Three years ago, we would have killed for a 2 percent," Blitzer said in an interview Monday on CNBC.
Weak demand for houses is keeping prices low, says Geoff Smith, executive director of the Institute for Housing Studies at DePaul University. The area also has a large pipeline of pending foreclosures waiting to flood the market.
"The foreclosure inventory in Chicago keeps the prices down," Smith said. "In Illinois, foreclosure is a judicial process," so it takes longer to work through the backlog of foreclosed homes. 
Other cities are seeing price increases because they experienced pricing bubbles earlier than Chicago, Smith says, and have already begun their recovery.
"You have to hit the bottom at some point, and hopefully our bottom is coming," Smith said. "When that's going to be is still up in the air."
Bob Floss, president of the Chicago Association of Realtors, agrees foreclosed sales are keeping average prices down, but says his members are seeing more sales--and are happy to have the work. 
"I get my data from people in the street, from people making a living selling real estate," Floss said. "We have a tremendous amount of investors in our market now with cash, and sellers have accepted to take less on their homes because they want to get on with their life....We can see the daylight where we can make a living again."