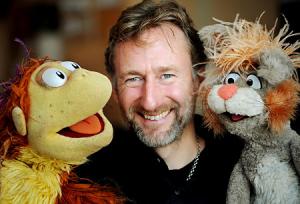 Famed puppeteer and The Muppets creator, Jim Henson, made his name starting in the early 1960s and '70s with the kid-friendly sketches featured on Sesame Street and The Muppet Show.
More than 40 years later, his son Brian is taking a different approach to the art of puppetry with Stuffed & Unstrung, an R-rated variety improv show featuring a raucous group of characters brought to life by the world-renowned puppeteers of The Jim Henson Company. Scheduled to run at Chicago's Bank of America Theater June 12-17 as part of TBS Just for Laughs week, Stuffed & Unstrung is almost entirely unscripted. The material comes mainly from audience suggestions.
"There's an element of the absurd that people want to see," said Victor Yerrid, a member of The Jim Henson Company and one of the original Stuffed & Unstrung puppeteers. "There's a cute, little bunny rabbit, and the audience wants to know what it would be like to see if the bunny was wicked."
Yet Henson didn't initially set out to create a globe-trotting, adult-themed improv puppet show. Rather, he had a less ambitious goal in mind in 2005: make the Henson sketches funnier by incorporating more improvisation.
"Brian felt that with some of the earlier performances, they had great sense of improv about them, and that some of that improv sense had since been lost," said Yerrid.
Henson invited Patrick Bristow, who is now co-creator and director of Stuffed & Unstrung, to work with a handful of Henson puppeteers in a one-night improv workshop. The class grew into a weekly gathering of Henson puppeteers, eventually spawning a series of in-house shows for fellow company members. An Aspen Comedy Festival scout happened to be in the audience one night and invited the crew to perform in Colorado.
Next thing Yerrid knew, he and the crew were flying to Edinburgh, Scotland and Melbourne, Australia to perform their rather unconventional variety show in front of a live audience.
Yerrid attributes that success to the strange paradox of seeing a fluffy puppet playing against expectations.
"Puppets can get away with things that people can't. I would never say some of the things in life that I say through the puppet. There's something forgivable about an adorable puppet calling someone a douche bag," said Yerrid.
Though Stuffed & Unstrung originally started with Henson Company puppeteers, like Yerrid, the group has grown to include actors who don't share the puppeting background.
"I watched the show and was so delighted and so engaged," said Peggy Etra, who saw the show in 2005 and is now one of Stuffed & Unstrung's puppeteers. "When it was over, I was moved."
A Los Angeles-based improv actor for 20 years, Etra says she spent five years building her physical stamina and learning how to manipulate the puppets through classes at the Jim Henson Lot. She's quick to say that puppetry is far harder than it might appear.
"The biggest challenge to an improviser learning to do puppets is that, with puppetry, the human controlling the puppet does not make eye contact with the other human in the scene," she said. "That's very hard, since every improv group and class and show will tell you eye contact is the first tenet to improvisational comedy."
"It's definitely a physical job," said Yerrid. "But I think if you put any of us in front of a camera or live audience, as long as people keep watching, we're not going to stop." 
As for what keeps bringing audiences to the theaters, Etra says there's an element of nostalgia that connects the viewers to the puppets.
"I think it harkens to the place in all of us where we're children again and playing with dolls and stuffed animals," said Etra. "So when you're watching these puppets and they say something that's inappropriate, there's comedy in that."
Brian Henson joins us on Chicago Tonight at 7:00 pm to talk about the show he and his fellow Henson puppeteers created.
Watch some videos of sketches from past shows below.