The video cannot be displayed.
The season for farmers markets is upon us again. Janine MacLachlan, author of Farmers' Markets of the Heartland, joins us on Chicago Tonight at 7:00 pm with tips on where you should go for fresh foods this summer.
Chicago Tonight spoke with two local farmers about their experience with farmers markets in the city.
Dave Rand, a local farmer, used to be a "farm forager" for Chicago.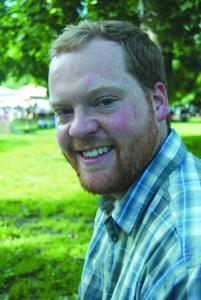 "When I first started the job in 2009, it was a joint position between the city of Chicago and the independent Green City Market," said Rand.
As farm forager, Rand's job was to travel to five states and recruit growers to join Chicago's farmers markets. He also was in charge of vetting the farms to decide which ones to let into the farmers market network. That included inspecting farms to make sure what they intended to sell was grown by them and on their farm.
"The goal was to reduce the number of instances of farmers going and buying wholesale, or produce from other markets, and selling it as their own," said Rand. "We wanted to keep Chicago Farmers Markets and Green City Markets full of integrity, so when you shop with them, you know they are growing their food. It supports the people who are doing things right."
Rand said he later ended his city ties and worked exclusively with Green City Market until 2011.
Now, Rand is part of Q7 Ranch in Marengo, Ill. He raises grass-fed beef and sells wholesale products to local restaurants, like Girl and the Goat, The Bristol and Nellcôte.
"We work with a whole plethora of local-minded restaurants and we also sell to butcher shops, like The Butcher & Larder," Rand said.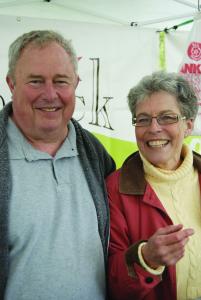 Dave Cleverdon, another local farmer, owns Kinnikinnick Farm with his wife Susan, about 80 miles outside of Chicago. Cleverdon says his family bought the farm in the late 80s.
"We had a backyard garden that got bigger and bigger and bigger. It became part of our household economy, and we realized we didn't need a garden, we needed a farm," said Cleverdon. "We saw this farm for sale. We wound up buying 170-plus acres for less than a 2-bedroom condo in Chicago."
Cleverdon says he always had an interest in the intersection between gardening and food.
"I was trying to figure out where culture and biology met, and that was a farm," he said.
Cleverdon now sells his produce to various Chicago restaurants, from Spiaggia to North Pond to Publican. But he says that all started by selling his produce at farmers markets, where chefs who were interested in local produce would come and buy his farm's products.
Kinnikinnick Farm is the only Midwestern farm to participate in Feather Down Farm Days, a program where visitors can stay for the weekend.
"Families can come out and be together. They participate in the life and rhythm of the farm," said Cleverdon. "It's a place where they can come and unplug, get off the grid and relax."
Check out the following recipe from Farmers' Markets of the Heartland by Janine MacLachlan.
Vinegar Chess Pie
Paula Haney, Hoosier Mama Pie Company, Chicago

Although the lineage of the name "chess pie" remains a mystery, some say that the name is a variation of the phrase "just pie." The secret to the tender texture of Haney's crust is the combination of chilled and frozen butter, yet there is something to her technique as well. She has a flow chart illustrating how to achieve the perfect consistency.

Makes One 10-Inch Pie 

1¼ cup granulated sugar
7 tablespoons unsalted butter, room temperature
3 eggs
1 tablespoon cornmeal
1½ tablespoons apple cider vinegar
1 teaspoon pure vanilla extract
1 10-inch unbaked pie shell (recipe follows)

Preheat oven to 300 degrees and position rack in the center. Using an electric mixer on medium speed, cream the butter and sugar until light. Add eggs one at a time and mix until blended. Add cornmeal, then vinegar and vanilla. Pour into unbaked pie shell. Bake for 20 minutes, then rotate pie 180 degrees. Continue baking until golden and cracked, another 20 to 25 minutes.

Hoosier Mama Pie Pastry
Makes One Double-Crust Pie or Two Single-Crust Pies

2¼ cups all-purpose flour, frozen
1 teaspoon salt
1 teaspoon sugar
9 tablespoons unsalted butter, chilled, cut into ¾-inch cubes
5 tablespoons unsalted butter, frozen, cut into ¾-inch cubes
1 tablespoon cider or red wine vinegar
7 tablespoons ice water

Pour flour, salt, and sugar into a food processor fitted with a metal blade. Pulse to combine. In a small bowl, stir together vinegar and ice water. Add chilled butter to flour and pulse about 20 seconds until it resembles coarse meal. Add frozen butter and pulse again until butter is the size of peas. Add five tablespoons vinegar water and pulse six times. Remove cover and pinch the dough. If it is still in particles but holds together when pinched between your fingers, it is ready. If it falls apart, add another tablespoon of vinegar water and pulse three times. Do the pinch test again. If the dough still does not hold together when pinched, add one more tablespoon of vinegar water and pulse three times. Turn the dough onto a floured board and divide in two. Knead each into a ball until the dough holds together and is slightly stretchy. Wrap in plastic and refrigerate for at least an hour or overnight.

When ready to roll out the crust, remove from refrigerator and let rest for ten minutes or so. Roll the pastry on a floured surface using a floured pin to make a 13-inch round, rolling from the center to the edge of the dough in all directions. To keep the dough from sticking, periodically loosen and rotate it.

Transfer the dough into the tart pan by folding it in half over the rolling pin and sliding it over to the pan. Trim and crimp the edges.