A blockbuster show at The Art Institute looks at the comic strip canvases of artist Roy Lichtenstein. We get a preview on Chicago Tonight at 7:00 pm.
Chicago Tonight spoke with one of the exhibit's co-curators, Sheena Wagstaff, Chairman of Modern and Contemporary Art of the Metropolitan Museum of Art, about Lichtenstein's art and the process of putting the exhibit together. Also, check out a photo gallery of Lichtenstein's work below.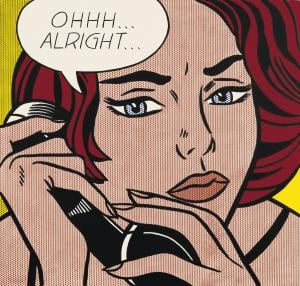 For people who think they know Roy Lichtenstein's work, what surprises can be found at this exhibition?
People will be astounded by the many bodies of work that he has created since the pop years, which went up until 1965. Roy died in 1997, so there's over 30 years of production after the pop pieces. He was amazingly inventive during that time. The other aspect that's not as surprising so much as awe-inspiring is the consistency of his vision throughout his work. Lichtenstein engages with different types of content. For example, he does a series of paintings of reflections in mirrors, he has a set of Chinese landscapes, as well as these huge images of nudes. In between, there are many other bodies of work. Practically every gallery you go into, there's a surprise.
Speaking personally, there's a kind of secret about Lichtenstein's work. You go into one gallery after another, and you can see how his work is hovering between abstract and figurative, but all of it is recognizable. Yet still, you're not quite sure upon first impression what he's actually doing. It's not until you ask those questions of yourself quietly that you understand how complex and mysterious the work is. He was a very clever artist, and much of his work contains hidden and pretty overt riddles. He was, to use a modern word, a trickster. Many of his works have little visual riddles. That's what I think the key compelling reason is for why his work remains fresh to today's audience.
What about his personal style? How did it progress from his early works to his final paintings?
His style is quite consistent throughout his career. What changes and alters and becomes more refined are the means by which he achieves that style, his use of dots and Ben-Day dots to allusions of Chiaroscuro style art. The means by which he achieves his personal style changes across his whole career. It starts with hand-painted dots to emulate the printing process, and he works forward in a way that emulates the printing process more closely.
How long has the show been incubating?
It was an idea from The Art Institute of Chicago. Tate Modern had been thinking of doing a showing of Lichtenstein's work. When we knew that Chicago was doing the show, we decided that we were going to work together, and James (Rondeau) and I would be the co-curators, which would enable us to attract the type of loans we would need. It's been five years in the making from the initial conversation. That sounds like a lot of time, but it takes that long to coordinate with lenders and galleries that rely on their Lichtenstein art. It's a big deal to give up iconic works for a year.
Was it difficult to assemble the works? What was involved?
Sometimes, yes. James and I, as co-curators, have undergone an incredibly rigorous selection process, looking at every piece that Lichtenstein has ever made. We began with boards, these big display boards with reproductions of the work. Then we did a first cut, a second cut and so on. It's been incredibly pleasurable, but it has taken a long time to refine the selection to what we thought was a good selection and representative of Lichtenstein's greatest works. We had the opportunity and honor to be the first people allowed to go through all of the drawing that Lichtenstein had done, which amounted to several thousands. We went through practically every one. What you see in the exhibition is a core group of interesting drawings that contribute more insight into the way that Lichtenstein had ideas and his artistic process. Through the gallery, viewers will be exposed to his thinking process. I think many will find that fascinating.
You worked with the Roy Lichtenstein Foundation on this exhibition. What support did they provide?
Immeasurable.  The Roy Lichtenstein Foundation and its staff have been extraordinarily supportive. The whole team came for the opening in Chicago. Given the fact that the exhibition is the first extensive retrospective dealing with every aspect of his work since he died, I think it has been a kind of wonderful opportunity for them to see his work gathered in this kind of way. All the way through the process, they've imputed ideas and opinions about what we've been doing. They provided constructive criticism about things we missed or what we may not have though of. I can't laud them enough.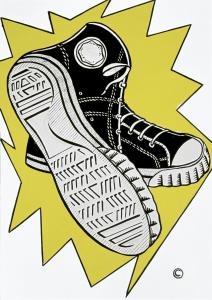 So did they provide more of a critical eye for you and James?
Not quite. They'd answer questions that he or I had about things that weren't clear, like what the production sources of a piece were, what Lichtenstein was looking at when he painted something or what other artists he was particularly looking at, at that time. They were more of a critical interface between James and myself. It was a very nice collaboration.
Lichtenstein was labeled a "pop artist." Did he embrace the definition or reject it?
As with many of these monikers and labels, it was applied from the outside. Roy was so focused on his own work. This is an artist that really didn't come into his own until his early 40s. By that time, he'd seen a lot. In a way, the label that was put on Lichtenstein's art extended beyond his own work to Warhol and Rosenquist. Lichtenstein was fairly impervious to it. Once he'd worked out an idiom for himself, it was sort of deep and fraught with possibilities. The pop moniker was neither here nor there. I don't think he hated it, but I don't think he warmly embraced it. He just got on with his job as an artist.