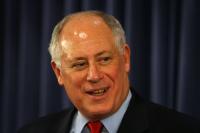 Gov. Pat Quinn announced a new resource on Wednesday to empower the people of Illinois to help restore fiscal stability to our state: SaveOurState.Illinois.gov.
This new online tool provides background on Illinois' Medicaid and pension challenges, details about the governor's proposed solutions, and the latest media reports on these issues. The website also helps citizens take action by directing them to contact information for their local legislators.
"We owe it to the next generation to rise to the occasion in the next 15 days and restore fiscal stability to Illinois," said Quinn in a press release. "It's important for the people of Illinois to make their voices heard like never before and urge their legislators to address these difficult challenges."
For more information about the urgency of repairing Illinois' Medicaid and public pension systems and to take action, visit SaveOurState.Illinois.gov.