We've all heard the old adage, "Sticks and stones may break my bones, but words will never hurt me." Well, some Chicago students are trying to turn that saying on its head, fighting against youth violence with—what else? Words.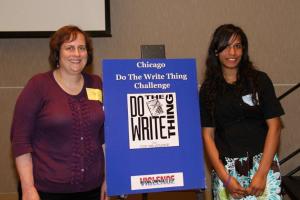 An initiative of the National Campaign to Stop Violence, the Do the Write Thing Challenge asks middle school students to share their thoughts on the causes of violence and commit to living more peaceful, constructive lives. Beginning in 1998, the competition has since spread to more than 50 cities across the United States.
After wading through more than 2,000 essays, poems, plays and short stories, a panel of judges selected 14-year-old St. Thomas of Canterbury 8th-grader Ariana Hernandez and 14-year-old St. Hilary Catholic School 8th-grader Christophilos Theodosis as the winners of the 2012­ challenge."In each of their essays, I think what you'll find – and what made them rise to the top – is that they're compelling and insightful as to the cause of violence," said Robin Hulshizer, board chair of Chicago Do the Write Thing. "They left a meaningful impression on the reader."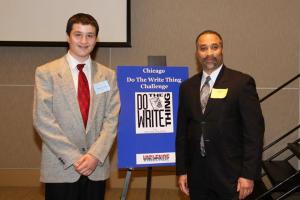 The competition required students to address three main points in their submissions: how violence affects their lives, what they believe the causes of youth violence are, and what they can do about youth violence. ­­
Hernandez's essay chronicles her lost relationship with her incarcerated father, and the feelings that have stemmed from his absence. Theodisis's poem takes the perspective of a bullied child rationalizing the root of the violence inflicted upon him. Both students were honored at the Do the Write Thing award ceremony and dinner earlier this week. They'll head to Washington D.C. in July to participate in the national award ceremony as Chicago's ambassadors.
"I knew it was a good poem. I knew it from the start," said Theodisis, who stressed his entry wasn't about a personal experience. "It was something I thought of. I wanted the poem to be something that was intense, something that would appeal to someone who read it."Hernandez was unavailable for comment.
Theodisis said he hopes his poem, and the other essays from Do the Write Thing, will help instigators and victims of violence help put an end to it.
"In the last stanza, I talk about how violence is an inevitable truth, but we should all strengthen our core and fight against it," said Theodisis. "Violence is out there, and we should do whatever we have to do stop it one situation at a time."
Read the winning essays by visiting the PDF below.