Tomato time is just around the corner. The Chicago Botanic Garden's Eliza Fournier joins us on Chicago Tonight at 7:00 pm to plant some ideas about container gardens and spring projects.
Now that spring has officially sprung, check out some gardening tips from the Chicago Botanic Garden and visit the photo gallery below.
What to do NOW in your garden
- Weed Pulling: the ground is so nice and moist that even giant weeds will come out easily!
- Transplanting or dividing: this is a great time to move or divide plants because the weather is still cool and moist enough NOT to stress them out so much.
Dig with spade or trowel around the entire plant. 
Remove plant with a good chunk of soil around roots.
Use spade or knife to divide into smaller plantlets (or just move entire plant.)
Replant and keep an eye on it!
- Planting: frost free date is May 15. Get ready for warm season crops like tomatoes, eggplants and peppers.
- Shopping
It's a great time to plant perennials.
It's so tempting to go into the garden center and make a beeline for the plants that are blooming. That's OK, but also make sure you're buying some plants that will be at their finest later in the season.
Container Gardening
- Making your soil: add soil-less mix, slow release fertilizer and water holding gel crystals to make your job easier.
- Include some foliage plants to provide substance to your container.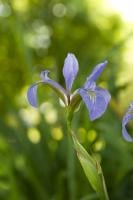 - Edibles can be an interesting addition as well! 
Spring project: Rain garden
- Changes in climate will bring less frequent and more substantial rainfall.
- Don't fight it if you've got wet spots in your garden; change to rain garden.
- Plants to include: wild ginger, fringed bleeding heart, blue flag iris.