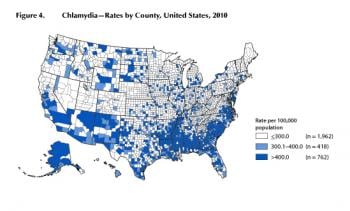 Cook County's chief medical officer, Dr. Terry Mason, joins us to talk about the county's STD testing initiative on Chicago Tonight at 7:00 pm.
The county has some of the highest levels of STD infection in the country, with the highest levels of gonorrhea and the second highest levels of chlamydia. Combined, there were nearly 60,000 such infections in Cook County in 2010. A lot of STD data is "unfortunately behind," Mason said. 
Some of those high levels are due to the sheer size of Cook County, which is the second largest county in the country, behind Los Angeles. 
"Cook County has the highest level [of gonorrhea infections in 2008] in absolute numbers, but not the highest rates," Mason said. "But our rate is still high, above L.A. County. Their rate was 91 infections per 100,000. We're 250 per 100,000."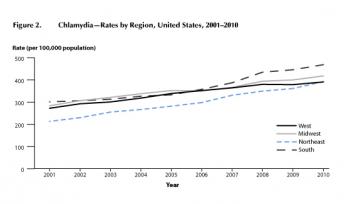 Mason says even though the STD data is years old, he doesn't think updated numbers would show any improvement. By age 25, about 1 in 2 sexually active people have a sexually transmitted disease, so one factor is the pervasiveness of sexual media among young people, Mason said.
"Children today are being exposed to sexual messaging so much earlier than when I was a child, and it's more 'accepted' as it used to be," Mason said. "When I watched I Love Lucy, Lucy and Ricky were in separate beds, and you barely saw them there. Mrs. Cleaver [from Leave It To Beaver]  came out of her bedroom fully dressed. That's not what's happening on daytime television today. It's in video games, and on the internet, and smartphones—they have access to anything they want, anytime they want it."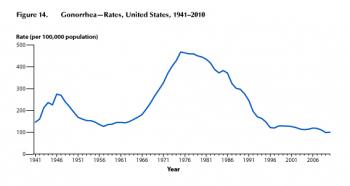 As part of STD Awareness Month, the Cook County Health and Hospitals System is running a fast track screening clinic outside Stroger Hospital, on 1901 West Harrison Avenue. There, patients can get urine test results within a day, or if they are symptomatic, receive treatment immediately. Mason says everyone who's had unprotected sex should get tested.
"You cannot rely on the lack of symptoms as an all clear," he said. "We recommend the more frequently you're having unprotected sex, the more frequently you should have yourself checked."
Read the latest CDC report on STD infections across the country, with data from 2010, below.