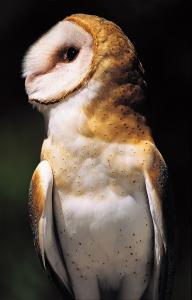 Wildlife photographer Carol Freeman is on a quest to capture the images of Illinois' most endangered species.
"I thought, you know, there really is a need for beautiful pictures of these rare species, and I thought, well, why not me?" said Freeman.
It's called the Endangered Species Photography Project and was started in 2004. Since then, Freeman has made it her life's work to track down and photograph all of the state's wildlife that is in danger of extinction.
"You know, nobody else was doing it so I just started to go out and get pictures, and I actually downloaded the list and I realized I already had about 20 that I had just taken over the years, and that was what sort of started the project," she said.
The results so far have been stunning.
"Most people are just amazed," said Freeman. "They have no idea that Illinois has any endangered species, let alone 483. They are always saying, 'oh, you must travel to Africa or India,' I'm like, 'no, I travel 10 minutes to the prairie down the block.'"
Almost all of Freeman's photos are taken hand-held with available light only. No flash, fill, filters or tripod because she wants to leave the areas as untouched as possible.
Freeman has already captured the images of 135 of Illinois' endangered species, everything from insects and plants to birds and reptiles. But she's still got a long way to go. Thankfully, she says she has a lot of help.
Freeman has formed partnerships with wildlife experts like Rob Carmichael, curator of the Wildlife Discovery Center in Lake Forest.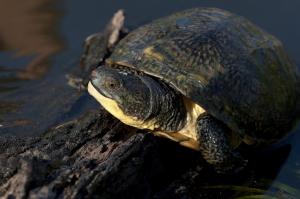 Carmichael works with a variety of threatened and endangered species of amphibians, reptiles both native to Illinois and also from all over the world, and says the work Freeman is doing is particularly important.
"Any time you can show people how beautiful nature is, it's really creating an awareness," Carmichael said. "If people see this Blanding's Turtle, it's got this cute face, this little "smiley," it's kind of like their nicknames. Anytime you can project that through a great photo it gets people excited about saying, 'hey, what can I do to improve the lives of these animals?'"
With the center's help, Freeman has been able to photograph some of Illinois' most fascinating reptiles and amphibians, like a critically endangered Alligator Snapping Turtle named Bruno; a 250-pound native that was rescued from a neglectful owner who kept him in a rusty cage. He is now recuperating here.
Freeman is also working with Plants of Concern as their official photographer, and with their expert advice, she is able to take photos of the threatened and endangered plants they monitor.
Ask her which photograph she's most proud of?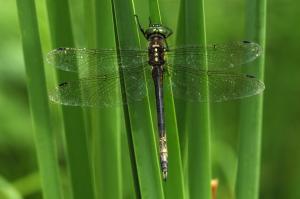 That's easy: the Hine's Emerald Dragonfly.
"I would go every other week during its flight season. It took three years," said Freeman. "I finally found it; it flew right out in front of me. I couldn't believe it. I'm like, oh, my god, oh, my god, oh, my god."
So, after the better part of a decade tracking and photographing species all over the state, more than 300 remain to be found. But with each new species Freeman discovers and each new image she shares, her hope remains simple: to inspire others to connect with nature.
"And that's what I want to do with my pictures, is have people look at them and go, 'that is so cool, and I had no idea it is literally in my backyard or five minutes away or 10 minutes away,'" she said. "And everybody can see this, and I don't have to travel to the ends of the earth to find these amazing species. They're right here and let's protect them."
For more on Carol Freeman's project and photos, visit the image gallery and links below.