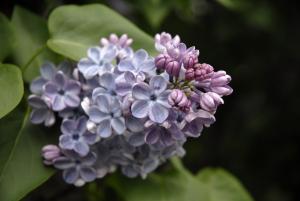 The record-breaking hot weather is jump-starting Chicago gardens. Eliza Fournier of the Chicago Botanic Garden joins us on Chicago Tonight at 7:00 pm with spring gardening tips.
So what's with the weather and how will it impact your garden? The Chicago Botanic Garden offers the following tips.
Project BudBurst is a nationwide initiative to help scientists understand the effects of climate change on plants by recording the timing of leafing and flowering of a variety of species. Learn more about the project. From 2007-2011, the project has observed 16 species across the country and reported on bloom times.
Eight species had significantly earlier bloom times than historical data recorded, including Forsythia (April 15: historical, April 1: current data -- until this year!), Red Maple (March 6), Lilac and Black Locust.
Usually, even if we have a warming trend early, cooler night temperatures will slow growth, but our night temperatures have been May-like.
What does the early warm-up mean for Chicagoland gardeners? 

You get to see things blooming simultaneously that very rarely bloom together; and prolonged blooms if the weather stays cool, and not hot and windy.
More sunshine means more photosynthesis, resulting in stronger reserves to keep plants going long into the season, and maybe even stronger next season.
Even if the weather turns colder, perennial plants will be ok…flowering tree blossoms may be damaged by a late frost, but will not hurt the plants long term
Long-term: expect more extreme weather, more snow when it snows and more rain when it rains, droughts, winds, etc.
What should you do?

Short-term:

DO enjoy the weather and the spectacular show we're getting!
DO protect emerging foliage if temperatures drop below 30 degrees. A good way to do this is with pruned evergreen branches
If temperatures do drop down below freezing, cut branches off flowering shrubs/trees to flower indoors to preserve blooms.
DON'T jump the gun and think it's OK to plant warm season annuals and crops outdoors. Count on cold temperatures to visit again.
DO plant cool season annuals and crops, such as Pansies, Forget-me-nots, Ranunculus, Snapdragons, Columbine, and spring bulbs, like Tulips and Hyacinth.
Take the time to catch up on outdoor projects you don't typically have the time for in the season. Build that compost bin or trellis, or set up that rain barrel you've been meaning to get around to.

Long-term:

DO plant shade trees. Natives like Kentucky coffee tree and Linden are great, tough options.
Plan for drought and extreme rain. Rain barrels and tough native plants are great choices.
Watch Chicago Tonight at 7:00 pm for more spring gardening tips. And visit the image gallery below to see photos from the Chicago Botanic Garden.