The video cannot be displayed.
Autumn leaves may be coming down, but there's still time to plant and prepare for next year. Our resident gardening expert, Eliza Fournier, joins us on Chicago Tonight at 7:00 pm with tips for the season. Check out a few of Eliza's tips for your garden below.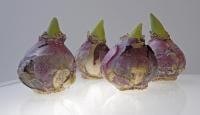 PLANT BULBS:
It's STILL not too late to plant those bulbs. Bulbs can go in the ground until you can't dig anymore.
- Good rules of thumb:
Pointy end up
Plant 3 times as deep as the bulb is tall
Plant several bulbs in the same hole for a fuller look
- Place popsicle sticks in the ground where you sink groupings so you can remember NEXT fall and don't dig them up.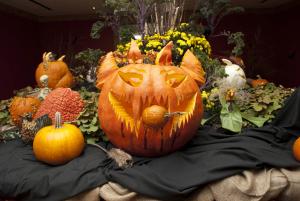 PUMPKIN LEFTOVERS:
What can you do with your pumpkins now that Halloween is over?
- If you have NOT carved them:
Cook them up and puree! Use pumpkin puree to make pies, breads, etc. Remember, there are varieties that are better tasting than others; they are often labeled as "pie" or baking pumpkins in the nursery or on the seed packet.
Use them as pots for ornamental plants (mums, kale) that have withstood the frost.
Hollow them out and use them as vases for ornamental grasses, berries, bittersweet inside your home for Thanksgiving.
- If you HAVE carved them:
Compost them in your pile; make sure to cut them up for faster decomposition.
If you don't have a compost pile, dig a hole anywhere in your garden (maybe the lawn isn't the best) and cover them up. This will save them from going to the landfill. 
Pick up stray seeds and roast them or save them; wash and dry them to plant next season!
LEAVES:
What should you do with all those leaves?
- They are a great source of nutrients and organic matter for your garden.
Rake them up and mow them with your mower, then return them to garden beds as mulch.
Add them to your community garden compost bin (after you have asked the garden leaders, of course!)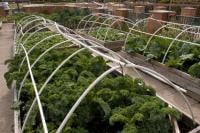 EXTEND GROWING SEASON:
If you still haven't had enough gardening, consider extending your growing season.
- Use PVC or metal "wickets" covered in clear plastic, or even just agribon. This will allow you to grow lettuce, spinach, radishes and greens almost all winter!
This can also help you overwinter carrots, onions and kale in your garden for early spring (or winter) harvest!
For more information, visit the links and photo gallery below.