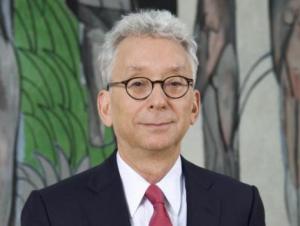 He was a curator for more than 25 years, and now Douglas Druick is the new President of The Art Institute of Chicago. He's here to tell us what he has in store for one of the city's highest profile cultural institutions on Chicago Tonight  at 7:00 pm.
Although Douglas Druick has only been the president and director of The Art Institute of Chicago since Jim Cuno's surprise departure from the position this past summer, Druick has been curating at the Institute in one form or another for the last 27 years.
Druick helped prepare some of the museum's most landmark shows in its history while he acted as the Prince Trust Curator and Chair of the Department of Prints and Drawings, and later as the Searle Curator and Chair of the Department of Medieval to Modern European Painting and Sculpture. As a leading scholar in the field of 19th-century art, he received momentous praise, particularly for the 2007 exhibit entitled Jasper Johns: Gray. The exhibit was named an "outstanding exhibition" by the Association of Art Museum Curators and "Best Monographic Museum Show Nationally" by the American branch of the International Art Critics Association.
As the 11th leader of the Institute, he has overseen the critical opening of the museum's Modern Wing. Since last July, Druick made it a priority of his tenure to scrutinize the manner in which the museum plans exhibitions, with a particular eye to fiscal accountability, as well as content and execution.
Prior to 1984, he held the position of Curator of European and American Prints at the National Gallery of Canada in Ottawa. He was educated at McGill University in Montreal, the University of Toronto, Oberlin College, and Yale University, from which he graduated with a Ph.D. in art history in 1979.
For more information about Druick and The Art Institute, visit the links below.