The video cannot be displayed.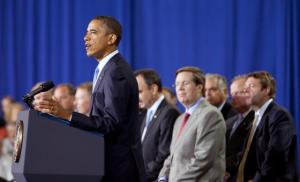 President Obama launches a revamped mortgage relief program; changing a program that many labeled a failure. Eddie Arruza and his panel look at so-called "underwater" homeowners in the Chicago area, and how the new program might help on Chicago Tonight at 7:00 pm.
On Monday, President Obama announced extensive changes to the Home Affordable Refinance Program, allowing many additional people to refinance their homes. Since 2009, the plan has helped 894,000 homeowners refinance their residences, and the Home Affordable Modification Program permanently modified the mortgages of 816,000 homeowners. Yet the plans did not allow borrowers who owed more than 125 percent of their home's value to participate. In a housing market with near-constantly plummeting values, this was a crucial exclusion.
The new HARP plan will allow more homeowners to take advantage of low mortgage rates, including even those whose homes are "underwater" – i.e., the mortgage on the home is larger than the value of the home itself. As of the end of the first quarter this year, 14.6 million mortgages were underwater across the country.
In order to qualify under the new plan, homeowners must have paid their mortgage on time over the last six month, or within 30 days of its due date over the course of the last year. Only primary residences financed through Fannie Mae or Freddie Mac are eligible for refinancing.
Borrowers who refinance their homes for shorter-term mortgages may have some risk-based fees waived, and those fees may be lowered for other borrowers. Additionally, the new plan eliminates the need for a new property appraisal in some circumstances, and extends the date for HARP until December 31, 2013.
The White House estimates that each refinancing under the new plan could save $2,500 a year per borrower, adding $2.5 - $7.5 billion to consumer spending. However, the administration has stressed that this is a step in the right direction, not a cure-all. The original 2009 HARP and HAMP programs were criticized for overestimating the effect they would have on the housing market and the economy as a whole.